Suralai, a luxury 6-bedroom villa on the idyllic Thai island of Koh Samui
SAMUI'S REVAMPED LUXURY PRIVATE VILLA 'SURALAI' IS READY TO WELCOME BACK VISITORS TO THAILAND 
As Thailand reopens its borders to international travellers on November 1st with no quarantine – SHA-approved luxury villas like Suralai are well prepared to host visitors
Suralai, a luxury 6-bedroom villa on the idyllic Thai island of Koh Samui has undergone extensive renovation during the pandemic to retain its reputation as one of the island's premier private villas.  Suralai is also part of the Elite Havens – Asia's most prestigious private villa rental collection.
From today November 1st 2021 Thailand welcomes foreign visitors from a list of 46 approved countries, with no quarantine requirements.  Travellers need to have just 1 PCR test upon arrival and stay for one night in an SHA-approved hotel within 2 hours of the airport.  For full details of all documentation and conditions of Thailand's border reopening, see the official TAT website:
https://www.tatnews.org/thailand-reopening/
Suralai Upgraded with a Fresh New Look
This stunning hilltop sanctuary combining distinctive Thai-inspired architectural features and a cool contemporary look, offers six spacious ensuite bedrooms and suites comfortably accommodating up to 12 guests in complete privacy.  Each has a covered terrace or balcony overlooking the pool and panoramic view of the sea and Koh Phangan (Full Moon Island) in the near distance.
Recent renovations have seen all rooms refurbished with cool grey ceramic floors, new louvred blinds and drapes, as well as stylish new soft furnishing accents in rich Jim Thompson silk fabrics.
Enhancing the vast living and dining pavilion, new outdoor furniture has been added to the wide   wrap-around terrace, and the open show-kitchen and long island-bar upgraded for a sharper and fresh new look.
At the poolside, comfortable, new loungers overlook the pool and view, and at one end, a Thai-style sala with wide, inviting daybeds has been refurbished to provide a truly special place to escape the sun and enjoy a book, a massage or pampering beauty treatment, or to gather for a casual poolside buffet lunch.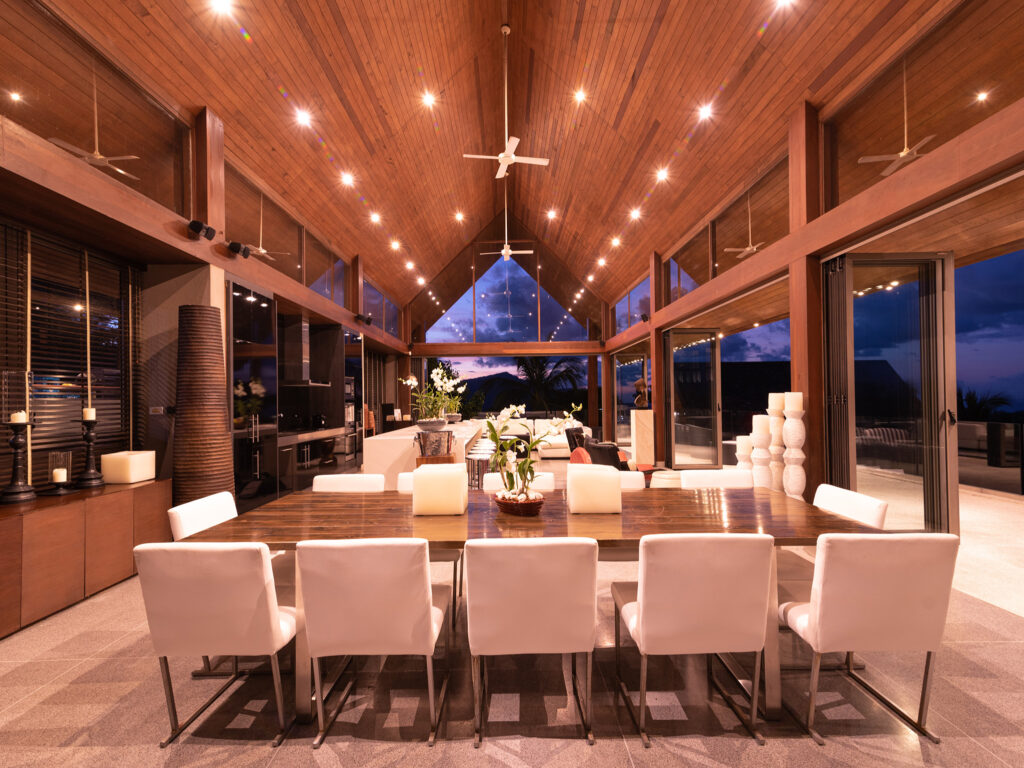 Unforgettable Holidays and Weddings
Suralai is a perfect fit for families and groups of friends, large and small, looking for a private vacation together, or for birthdays, weddings and other special celebrations for 80 or more guests.  Professional wedding and party planners continue to create magic at this beautiful location with pool-side wedding pavilions and lavish decorations with flowers, lighting and even fireworks.
At Suralai, a highly experienced villa manager is there to organize a one-of-a-kind holiday for guests. The day might begin with a private yoga or a fun aqua-aerobics class in the pool, or a work-out at the villa's private gym.  After that, it's a time to relax and connect over breakfast on the terrace, where your private chef is waiting to prepare whatever takes your fancy fresh from the kitchen.
If you want to stay close to home, spa lovers will relish the prospect of a morning or afternoon spent in the cool and peaceful sala, enjoying a massage or pampering beauty treatment from top class Thai therapists.
Meal times at Suralai are anything but ordinary – a light and delicious Thai or Western-style lunch can be served buffet-style in the shade of the poolside sala, and in the evening, chef and his team will create a deliciously authentic Thai dinner, your preferred Western-style cuisine or a fun and casual barbecue.
If you prefer to venture out from the villa for a day at the beach, or to explore some of what this beautiful tropical island has to offer, the villa manager Khun Tee will arrange it.  Consider hiring a private sailing catamaran or speed boat to picnic, swim and snorkel at  many stunning islands  around Samui, perhaps a visit to one of Samui's renowned elephant sanctuaries 'Elephant Haven'  – just 5 minutes' walk from the villa, or enjoy a private tour of Samui's numerous cultural and natural highlights.
Although it's unlikely you'll want to leave this hilltop eyrie, Samui's vibrant tourism scene is literally 15 minutes away. Fisherman's Village and its vibrant Friday-night street-market are a must see, as are its many cool restaurants and chic fashion boutiques.  Meanwhile, the palm fringed sandy beaches of Bophut, Big Buddha and Chaweng with their stylish resorts, fashionable new beach clubs, and numerous bars and restaurants are similarly less than 15 minutes' drive from the villa.
Rates
Starting from USD1,000 per night for the low season.  See Elite Havens website below for real-time availability.  www.elite-havens.com
002 Villa Suralai - Tropical getaway
004 Villa Suralai - Master suite view
011 Villa Suralai - Aerial shot at sunset
012 Villa Suralai - Pool and sunken sala