Take Off to a Japanese Summer Festival for Stay and Dine at Renaissance
No passport required, let's depart to the Japanese Summer Festival at Renaissance Harbour View Hotel Hong Kong to reminisce your travel memories! In this May and June, set sail your eclectic Japanese exploration with us and indulge in the dazzling Hanabi Festival and brilliant lanterns scenes, while you make a wish upon the Taiko drum. Mark the Natsu Afternoon Tea and Dazzling Hanabi Set Dinner at Mirage Bar & Restaurant, Yatai Buffet at Café Renaissance or Sake Pairing at Dynasty into your Nippon gastronomic itinerary. Don't forget to dress up in yukata and staycay your way at our thematic guestrooms with our Renderful Japanese Fest-cation to experience an unusual Japanese holiday to the fullest!
EXPLORE THE JAPANESE YATAI SUMMER FEAST AT CAFÉ RENAISSANCE
Café Renaissance transforms into a Japanese Summer Festival Yatai in celebrating the arrival of Summer! Kick off the Japanese Flair with Seasonal Sashimi such as Salmon, Hamachi, Octopus and Artisanal Maki, as well as the Succulent Oysters, Sautéed Clams in Sake and the wildly popular Baked Lobster with Cheese, diving into the celebration with waves of umami. Roam around the bustling Yatai avenue and take pleasure in the tastes of Japan with a myriad of indigenous delights including Takoyaki, Yakitori, Okonomiyaki, Tempura and more. Let our chef prepares the Tonkatsu Pork Bone Soup Ramen with Japanese Char Siu and Soft Boiled Egg for you on site and impresses you with the slow-cooked pork belly and house made creamy soup; while the Deep Fried Pork Katsu with Tonkatsu Sauce will charm you with its irresistible layers of crispiness and tenderness. Savour the Sakura Strawberry Cakewith silky-smooth strawberry mousse encasing the elegant scented sakura jelly, swaying you into the paradise of fruity notes and lingering floral tastes.Come up close to discover the live in action of Obanyaki Red Bean Cake with spongy cake filled with sweet red bean paste, together with the authentic desserts such as Yuzu Cake, Raindrop Cake and Mochi, satisfying your Japanese food craving for a splendid Hanabi Festival.
Café Renaissance Japanese Yatai Buffet is available from 29 April to 30 June 2022. Lunch Buffet is available from 12 p.m. – 2:30 p.m. daily, it is priced at HK$ 368 per adult and HK$ 218 per child (aged 3 – 11) on Monday to Friday; HK$ 438 per adult and HK$ 238 per child (aged 3 – 11) on Saturday, Sunday and Public Holidays. Dinner Buffet is available from 6:30 p.m. – 9:30 p.m. daily, it is priced at HK$ 698 per adult and HK$ 398 per child (aged 3 – 11) on Monday to Thursday; HK$ 728 per adult and HK$ 418 per child (aged 3 – 11) on Friday to Sunday and Public Holidays. All delicacies will be served on cycle.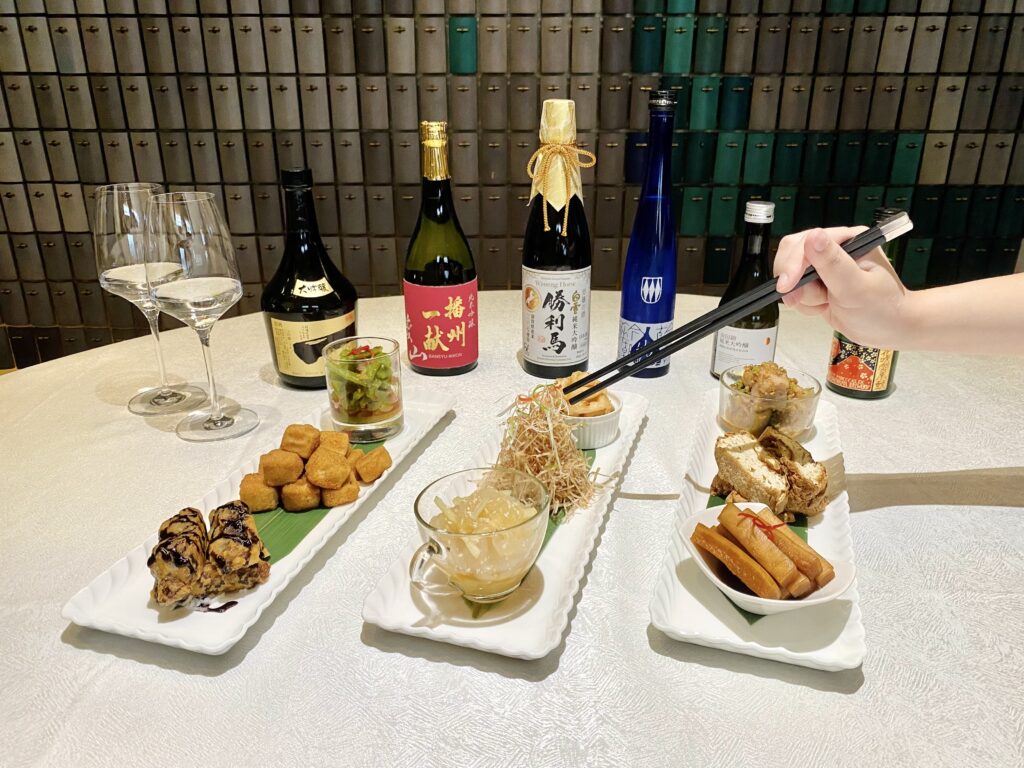 EMBARK ON A NATSU AFTERNOON ODYSSEY IN MIRAGE
Swinging into a balmy summer afternoon, Mirage Bar & Restaurant invites you to our eclectic Natsu Matsuri – Japanese Summer Festival, to celebrate the prelude to summery. Uncover the playful afternoon tea menu spotlighting an unusual take on the indigenous tastes of the alluring Sesame Tuna and Nori Onigiri, heavenly rich in taste Okonomiyaki and caramelized Chicken Tsukune. Pamper your taste buds with White Peach Delight, bringing you a hearty taste of the sakura infused jelly with fresh peach filling for a vibrant summer taste. While the equally tempting Sakura Strawberry Tart will deliver irresistible aromatic flavour to your palate with its velvety sakura custard and strawberry cubes that are married perfectly on the crunchy tart. Continue your enticing trip with Chestnut Chocolate Cake, Uji Matcha Red Bean Roll, Matcha Chocolate and Renaissance Cheese Cake blooming a series of intriguing sweetness of the season. No afternoon tea set will be completed without the Afternoon Tea essential – Scones. The Hojicha Scones and Plain Scones will bring you to explore a scene reminiscing the dynamic Summer Fest with your appetite, in a mid-day indulgence.
Mirage Bar & Restaurant Natsu Afternoon Tea is available from 29 April to 30 June 2022, 3 p.m. – 5 p.m. daily. It is priced at HK$ 508 per two persons and HK$288 per additional person.
SOAK UP THE ROMANCE OF THE HANABI FESTIVAL AT MIRAGE
Let your heart blossom in the lovey-dovey vibe of the Dazzling Hanabi Five-course Set Dinner spruced up with Japanese touch at Mirage Bar & Restaurant. Be swoon by the Fresh Sashimi Platter featuring Tuna, Salmon, Hamachi and Hokkaido Scallop to embrace the summer breeze. Freshen up your taste buds with Japanese Pumpkin Soup and the coveted Pork Katsu Sando, which will capture your heart with the dream combination of crispy and juicy thick cut pork cutlet sandwiched between crusty toast, complimented with the sour and sweet homemade sauce. Continue your summer indulgence by choosing your favourite main course from beefy Grilled Wagyu Flat Iron Steak or luscious Japanese Maitake Mushroom Risotto paired with a bottle of distinctive Sake. Delight in the delicate Hojicha Mousse served with toothsome red bean paste and crisp sesame flake to add a charming touch to your romantic rendezvous.
Mirage Bar & Restaurant is available from 29 April to 30 June 2022, 6 p.m. – 9:30 p.m. daily. It is priced at HK$ 1,188 per two persons, includes a bottle of sake (300 ml).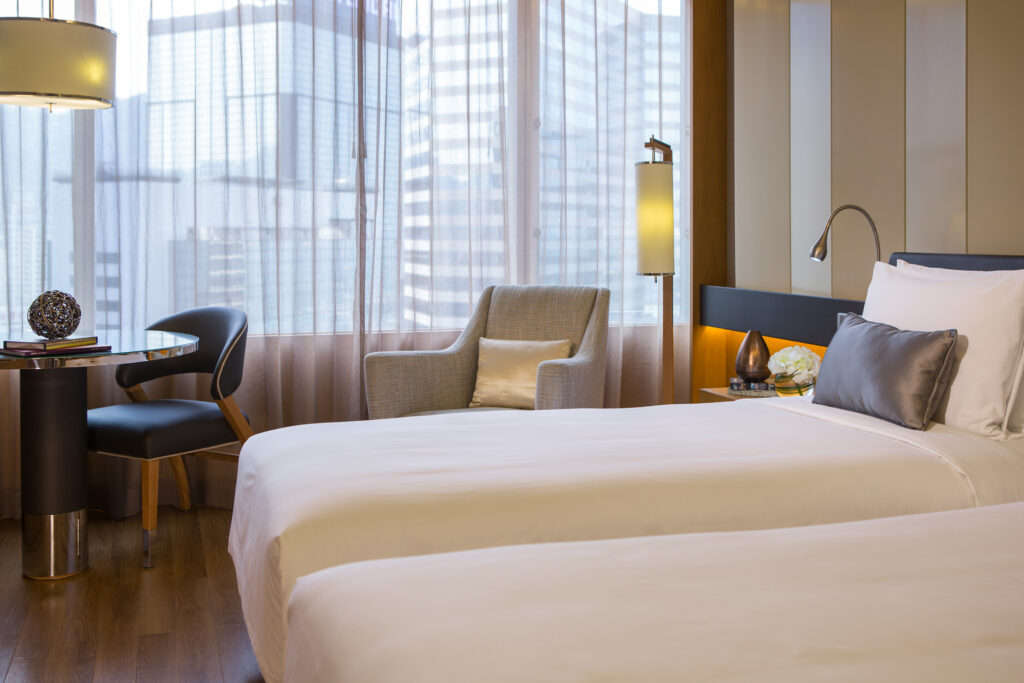 DIVE INTO A SAKE PAIRING JOURNEY TO CELEBRATE SUMMER AT DYNASTY
When Cantonese delights meet sake in the Japanese Summer Festival at Dynasty, a brisk wine-pairing indulgence makes waves amongst discerning food connoisseurs.  Splurge on a selection of distinctive Sake such as the Sekai Itto Daiginjo Ichi Homon (HK$ 650 per bottle), honoured with the Highest Gold Award by "Kan Sake Award", with lively aroma that balances well with savoury snacks; or indulge in the fruity profile of Nishiyama Junmai Daiginjo Namazake (HK$ 360 per bottle) that will linger on your palate with elegant and fragrant finish. Discover a splendid pairing with our award-winning indigenous snack creations crafted by Executive Chef Suen Kam Sing, such as Deep-fried Crispy Ox Ribs, Marinated Pig's Trotters in Ginger Sauce,Marinated Tribute Vegetable with Chili Peppercorn Sesame Sauce, and Deep Fried Shredded Taro and Cashew and more, for an unconventional sake and gourmet occasion.
Dynasty Japanese Summer Festival Sake Pairing is available from 29 April to 30 June 2022, 12 p.m. – 3 p.m. on Monday to Saturday; 11:30 a.m. – 3 p.m. on Sunday and Public Holidays; 6 p.m. – 10 p.m. daily. Enjoy complimentary set of 3 snacks for selected bottle of sake, priced from HK$220 per bottle. Or enjoy a special price at HK$ 888 for a 4-bottle takeaway sake set.
RENDERFUL JAPANESE FEST-CATION
Cure your wanderlust without traveling and delight in all things Japanese with our Renderful Japanese Fest-cation package!  Unlock your travel memories in our Garden View or Harbour View thematic guestrooms spruced up with Japanese touches and firework scene. Dress up in the Yukata* – Japanese traditional bathrobe and be whisked away to your favourite destination right here at Renaissance. Continue your intriguing expedition with the Dazzling Hanabi Five-course Set Dinner with a glass of house wine at Mirage Bar & Restaurant and revel a "renderful" new day with Café Renaissance's breakfast buffet for two. Don't forget to visit our head-turning Japanese Summer Festival displays and capture the vibrant moments in front of splendid fireworks on the upper lobby and glittering lanterns wall on the mezzanine floor!
Priced from HK$ 1,900 per night, Renderful Japanese Fest-cation package is available from 29 April to 30 June 2022, one day advanced booking is required. Complimentary upgrade to Harbour View Room is available on Sunday to Friday, except 8 May and 3 June, subject to availability. *Women's Yukata is available at $380 per set.
Explore more or book now at: https://bit.ly/338N9C9 (Go to "View Rates", enter Promotional Code "ZJ1" under "Special Rates – Corporate / Promo/ SET#" to be directed to the package or view all our accommodation packages under "Deals and Packages" while checking rates.)
Above prices are subject to 10% service charge. Dinner last order time is one hour prior to restaurant's closing time.
Reserve now:
Café Renaissance https://bit.ly/3E0yKdd
Mirage Bar & Restaurant https://bit.ly/3vbwko2
Dynasty https://bit.ly/3KtKkAj
Renaissance Harbour View Hotel Hong Kong
1 Harbour Road, Wanchai
T: (852) 2802 8888