The 1st Anniversary and Grand Opening of Bacchus Wine & Restaurant are Celebrated with the Official Launch of The Terrace Hollywood Road
It begins with our passion and enthusiasm towards rare and prestigious wines from Burgundy and our dedication of bringing them to Hong Kong for the joy of sharing with wine connoisseurs in the city. Bacchus, the Greek god of wine and harvest, to us is a philosophy of pleasure and enjoyment. As an extension of this philosophy and indulgence of exceeding desire, Bacchus Wine & Restaurant is introduced to Hollywood Road in 2021 as an ultimate realisation of the captioned belief through sophisticated and carefully crafted dishes and unparalleled bottles of wine. In fact, there are more than 800 selections of wine such as Yann Durieux Canonique Blanc, Egly Ouriet Brut Grand Cru, Pichon Lalande and more, empowered by Burgundy wine importer L'Imperatrice.
This September, it is an absolute delight for us to celebrate the first anniversary of Bacchus Wine & Restaurant with Hong Kong and show our appreciation towards the continued love and support from our team and valued customers, especially during the tough time due to the global pandemic. To mark the special occasion, the grand opening ceremony will be held on 15th September, 2022 in Hollywood Road with the official launch of the newly introduced secret garden open bar, The Terrace Hollywood Road. While Bacchus Wine & Restaurant is an Asian-inspired French restaurant operated by Executive ChefMickael Messina presenting authentic French cuisine revisited with ideas and elements extracted from Asian cuisines, The Terrace Hollywood Road is an urban oasis hidden in the neighbourhood as an escape of the overwhelming hustle and bustle, graced with classic cocktails. Surrounded with tropical plants and nostalgic and artistic ambience of Hollywood Road, The Terrace is a spacious open bar for drinks and mingling — "Buy One Get One Free" for selected drinks is available from 3:00 to 8:00 p.m. Wednesday to Friday.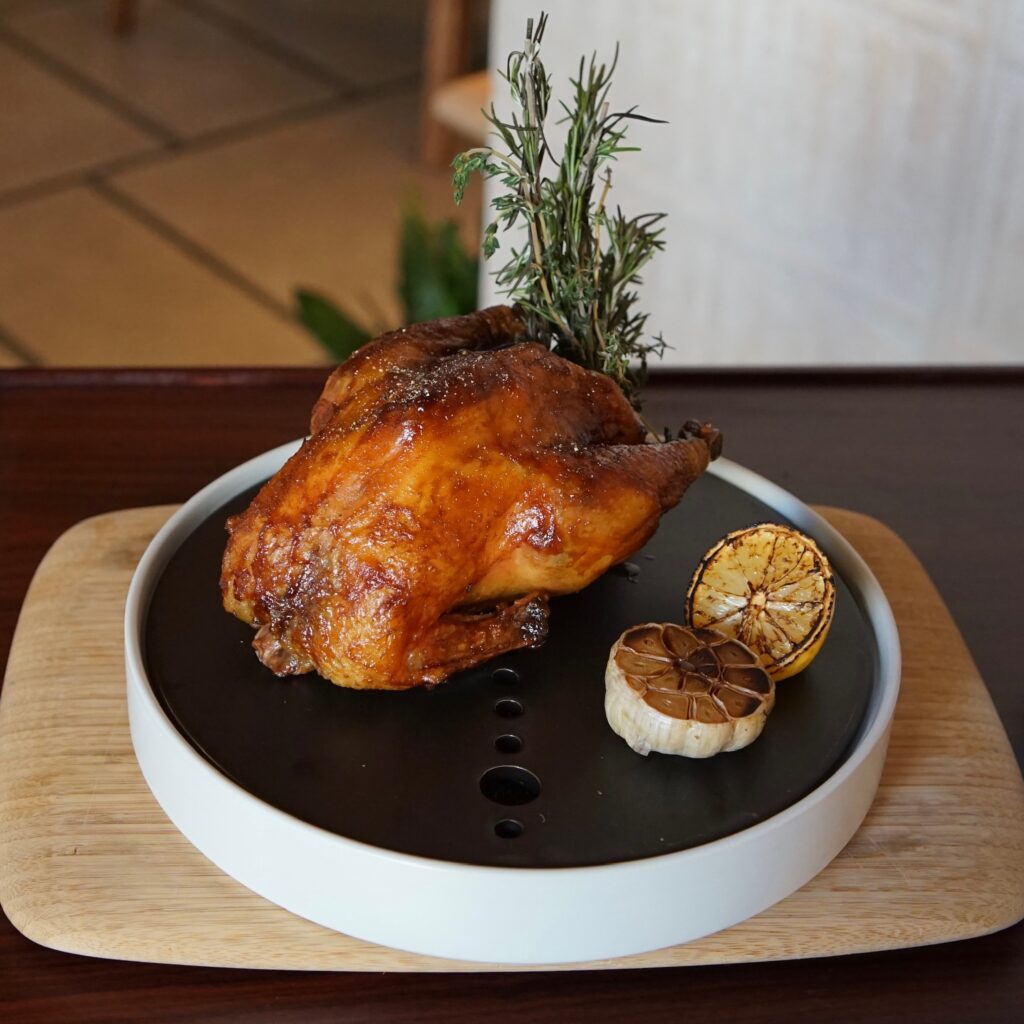 Over the past year, Bacchus Wine & Restaurant has gained its reputation with the signature dish, "12 Days Dry Aged Chicken Glazed with Sichuan Pepper" — crispy on the outside and juicy in the inside" — which is a harmonious combination of "east meets west", full of surprises. Derived from the traditional French recipe passed down from generation to generation, this chicken dish is a household must-have amongst French families. Meanwhile, Sichuan pepper gives the Asian touch to the traditional glaze mixed with thymes, lemon, rosemary and garlic. To enrich the flavour of the meat, Chef Messina adopts the know-how of dry aging on the chicken for 12 days so that the meat is layered with an additional gamy flavour. For a satisfying bite of authentic French cuisine, 12 Days Dry Aged Chicken Glazed with Sichuan Pepper is exclusively served at Bacchus Wine & Restaurant. Limited offer, first come first served.
•   Opening Hours: 11:30 a.m. to 10:00 p.m. / Wednesday to Sunday
•   Address: 3/F Hollywood Centre, 233 Hollywood Road, Sheung Wan, Hong Kong
•   Contact Number: 3750 5200 / WhatsApp: 6108 2862
•   For reservation: https://www.sevenrooms.com/reservations/bacchushongkong
•   Follow us on social media:
Instagram@bacchushongkong / Facebook@BacchusWine&Restaurant