24 Apr 2022 By AWAY IN STYLE
THE BAKER & THE BOTTLEMAN BY SIMON ROGAN
THE BAKER & THE BOTTLEMAN BY SIMON ROGAN TO OPEN ITS UPPER FLOOR DINE-IN SECTION & WINE BAR FROM 27TH APRIL ONWARDS AT HONG KONG WAN CHAI'S LEE TUNG AVENUE
Hong Kong: A modern bakery by day and natural wine bar by night, The Baker & The Bottleman has seen lines coming out of its bakery doors since opening at the gourmet and lifestyle oasis of Wan Chai's Lee Tung Avenue. Following the success of the bakery, the upper floor space designated for its natural wine bar will now officially open from Monday to Sunday from 800am – 500pm from 27th April onwards for daytime dine-in from The Baker's menu, and Wednesday to Saturday from 530 – 1000pm for The Bottleman's wine bar experience.
Come for the sweets, stay for the vines. The Baker & The Bottleman introduces the city's first modern bakehouse with sustainability at its heart — a quintessential taste of British bakes with a Simon Rogan twist. As part of its sustainable approach, The Baker & The Bottleman only accepts cashless transactions, and all dine-in orders are made and paid for by scanning a QR code in lieu of a traditional paper menu. Guests who wish to purchase a bottle of wine can do so at the ground floor retail section of The Baker & The Bottleman, which stocks a unique curation of wines by natural, bio-dynamic and organic wine growers around the world.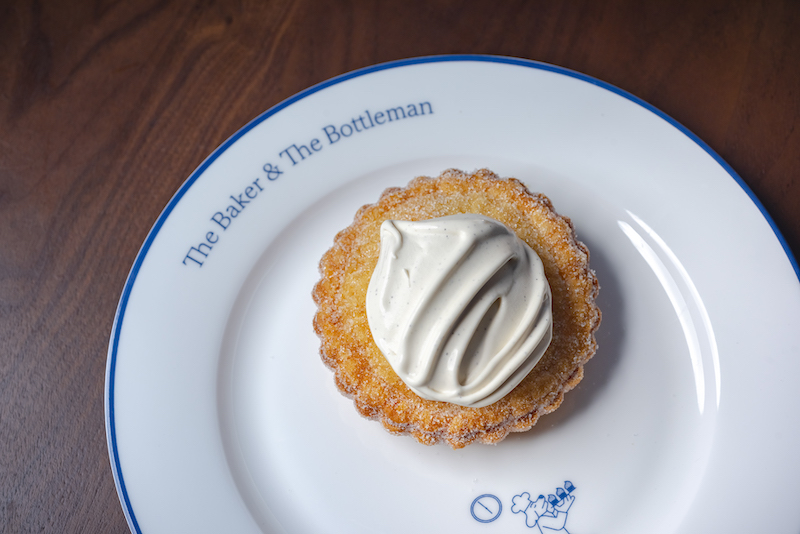 The Baker & The Bottleman
In the evening from 530pm onwards, The Baker & The Bottleman's upstairs space will transform into a relaxed and casual wine bar serving natural wines alongside snacks, cold cuts and cheese. The perfect place to wind down with a glass after a long day at work, The Baker & The Bottleman offers the ideal setting to enjoy happy hour with friends, colleagues, and family. From 800am – 500pm, guests will be able to enjoy a casual space in the heart of Wan Chai to sit, relax and enjoy pastries fresh out of the oven alongside refreshing beverages.
6 types of small plates on offer during the evening will include Anchovy on Toast (HK$78 for 4 pieces), Flat Bread with roasted cashew and chickpea cream, sorrel emulsion (HK$68), Scotch Egg (HK$95) with pickled walnut sauce, and selections of cured meat and fish such as Cured Meat Platter with Truffled Ham, Chorizo, Serrano Ham (HK$178 for 120g) and Beetroot and Orange Cured Salmon (HK$168 for 120g) – all of which come with a complimentary bread basket, pickles, olive oil and vinegar. No wine session is complete without an Artisan Cheese Platter (HK$208 for 120g) for 30g each of Isle of Mull cheddar, Stichelton blue cheese, Sainte-Maure de Touraine and Saint-Nectare alongside crackers and chutney. Finish with something sweet, such as the Soft-serve Ice Cream (HK$98) with either vanilla ice cream, shot of espresso, coffee molasses, shaved dark chocolate or earl grey ice cream with berry compote and granola or The Apple Turnover with Vanilla Ice-Cream (HK$68).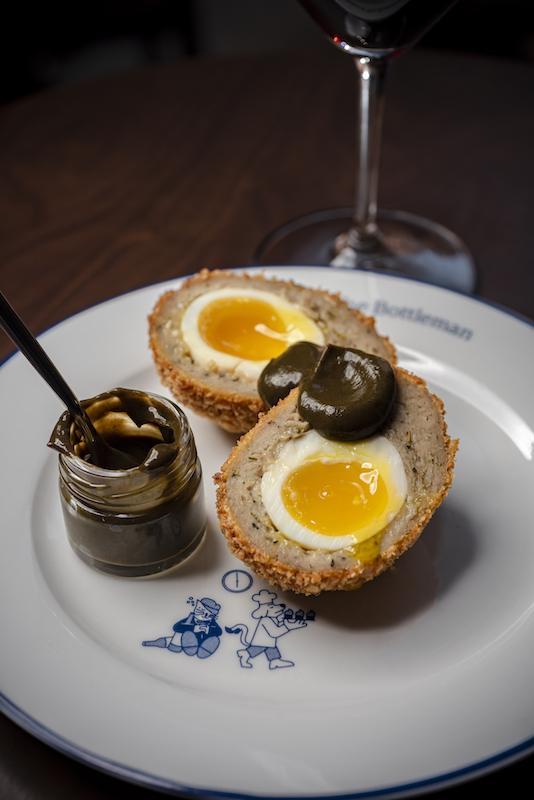 The natural wine list is carefully curated by the Roganic team – overseen by Master Sommelier Pierre Brunelli – with the aim to introduce a unique portfolio of natural, organic and biodynamic wine growers to Hong Kong. As with food suppliers, The Baker & The Bottleman chooses to only work with winemakers with whom strong friendships and trust have been forged over the years. Featured winemakers fit a certain set of criteria set out by the Simon Rogan team, including advocating a farming culture that doesn't harm the planet, that supports biodiversity, and empowers local communities.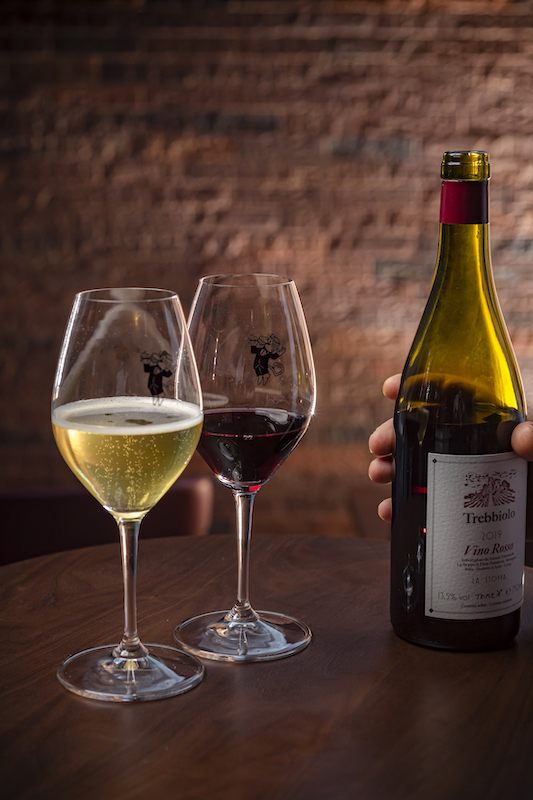 The Bottleman's hand-picked wine selection begins at HK$200 per bottle, featuring a diverse range of vintages from around the world. With unique labels from Loire Valley in France to Marchigue Valley in Chile, the selection is sure to surprise and intrigue wine lovers.
The Baker & The Bottleman
New sweet and savoury highlights from the menu are available to take-away directly from the store, or to enjoy in the newly opened upstairs space at The Bottleman. New items on the menu include Chocolate Brownie (HK$20 per piece), Apple & Pear Turnover (HK$45 per piece), three types of donuts with Lemon Curd, Strawberry and Chocolate fillings (HK$35 per piece), and three types of sandwiches including Italian Cold-Cut Sandwich, Egg Mayonnaise Sandwich and the classic Ham & Cheese Toastie (HK$85 per sandwich) and a classic British Sausage Roll(HK$60 per piece) 
Other signature and popular items on the menu include Irish Soda Bread Loaf (HK$85), a classic Irish soda bread made with rye and wholemeal flour topped with golden syrup and oats, and Sourdough Loaf (HK$55) that uses all-natural, GMO-free, unbleached and ethically sourced flours from Alchermuhle, one of the oldest family mills in Germany.
The Baker & The Bottleman Shop Information
Address: Shop Nos. G14-15, G/F, F15A, 1/F, Lee Tung Avenue, 200 Queen's Road East, Wan Chai, Hong Kong
Email: Hello@tbtb.hk
Facebook Page – www.facebook.com/TheBakerandTheBottleman
Instagram: @TheBakerandTheBottleman