The Elegant Rosewood Residences Turtle Creek in Dallas
ROSEWOOD HOTELS & RESORTS® AIMS FOR NEW HEIGHTS OF ENRICHED LIVING

Turtle Creek, Dallas, is where the Rosewood story began. A peaceful, walkable neighborhood surrounded by grand parks and close to Dallas's most celebrated sites, it's not only one of the most coveted residential communities in the country, but also home to the brand's first property: the iconic Rosewood Mansion on Turtle Creek. Now, the globally-recognized leader in luxury lifestyle returns to the neighborhood with a landmark new offering, Rosewood Residences Turtle Creek, a standalone residential development that will set a new standard for high-rise living in Dallas's metropolitan landscape.
The new 17-story tower, which combines Beaux-arts inspired elegance with a wealth of outstanding amenities, will comprise approximately 46 residences offering effortless luxury in a setting that's perfectly appointed for experiencing everything Dallas has to offer. Developed by One Turtle Creek to reflect the best of this dynamic city, the property is scheduled for completion in early 2025, with sales to commence in 2023.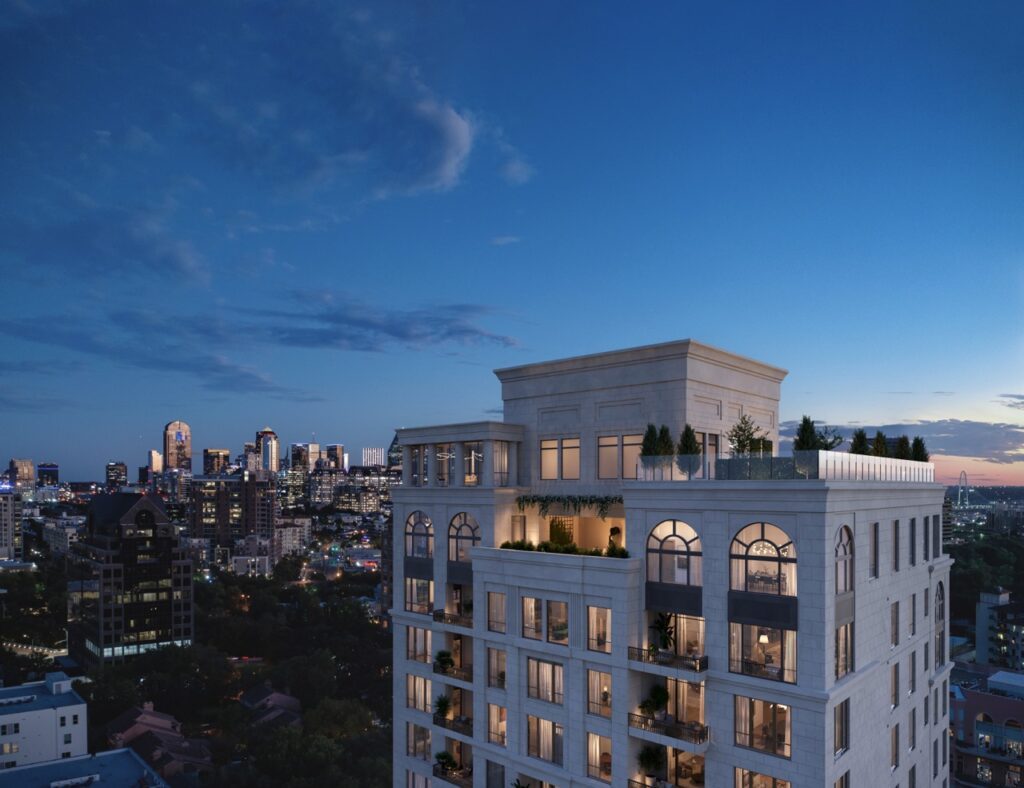 The Location
Rosewood Residences Turtle Creek occupies a prime location in Dallas's Turtle Creek Corridor, a historic neighborhood nicknamed "Dallas's Front Yard". Nestled between fine parks and close to the Katy Trail, it's a secluded but enviably connected destination just minutes away from the beloved neighborhoods of Highland Park, Uptown and Downtown. Thanks to its peaceful ambience, it has been favored as an exclusive residential enclave throughout the 20th century, and boasts many fine examples of modern and contemporary architecture.
"Given the symbolic significance Dallas holds for us at Rosewood Hotels & Resorts, we are thrilled to be bringing our residential concept to this market," said Brad Berry, Vice President of Global Residential Development at Rosewood Hotel Group. "Planting the Rosewood Residences flag in the same neighborhood as our very first hotel is a great moment for us as we continue to grow our footprint. But, of course, Turtle Creek is a special setting in its own right, and I think these one-of-a-kind residences embrace the area's natural beauty, rich history and incredible location, and provide residents with an unrivalled quality of life in Dallas." 
"With this project, we are realizing our vision of bringing timeless architecture together with exceptional service in the upscale residential neighborhood of Turtle Creek," says developer Preston Cheng of One Turtle Creek. "This hasn't been done before in Dallas, and to do so with Rosewood, renowned architect Lucian Lagrange, and AD100 interior designer Dan Fink, adds another level of excitement." 
For more information about Rosewood Residences Turtle Creek, please visit www.residencesturtlecreek.com.