The Fullerton Ocean Park Hotel's Signature Cantonese Restaurant
Jade Celebrates The Arrival of Autumn With
New Seasonal Offerings
This autumn, Chef Lai presents a new collection of heartwarming dishes in his Autumn Feast Menu, notably including Cantonese specialties as well as sustainable seafood sourced from the neighbouring Aberdeen fishing village in Hong Kong, in keeping with The Fullerton Ocean Park's strong sustainability principles.
The Autumn Feast Menu begins with Crispy Scallop with Fresh Pear, Shrimp Paste, and Yunnan Ham; Cherry Tomatoes with Pomelo Vinegar. Chef Lai adds pomelo juice and salt preserved plums into Korean vinegar to marinate skinned cherry tomatoes, creating a balance of sweet and sour flavours. Chef Lai also pairs soft scallop with shrimp paste, both fresh catches from the ocean. The seafood duo is matched with Yunnan ham with light sweetness from fresh pear. The four elements are neatly stacked and deep-fried. Beyond the multitude of textures, the richness of seafood is elevated by the creamy sweet pear.
The Braised Bird's Nest Soup with Crabmeat and Winter Melon highlights meat picked from fresh blue crabs, as well as soft, cotton-like steamed winter melon, carved out from the centre of a steamed whole winter melon. The winter melon and crabmeat are added to a rich supreme stock of chicken and ham, together with a generous helping of bird's nests for added texture and nourishing properties to cure dryness from the autumn weather.
Adopted at the peak of its season, Chef Lai's Braised Japanese Sea Cucumber and Pomelo Pith and Shrimp Roe in Oyster Sauce is more than a harmonious marriage of land and sea, but an encapsulation of the essence of Cantonese cuisine. Sea cucumbers require slow braising in sumptuous oyster sauce and shrimp roe, creating a gelatinous texture in the sea cucumber. Pomelo pith requires a minimum of two days of preparation, from hydrating, frying in lard, and simmering in a rich stock, the beautiful citrus white pith magically turns into a rich sponge that absorbs the best seafood flavours from the oyster sauce.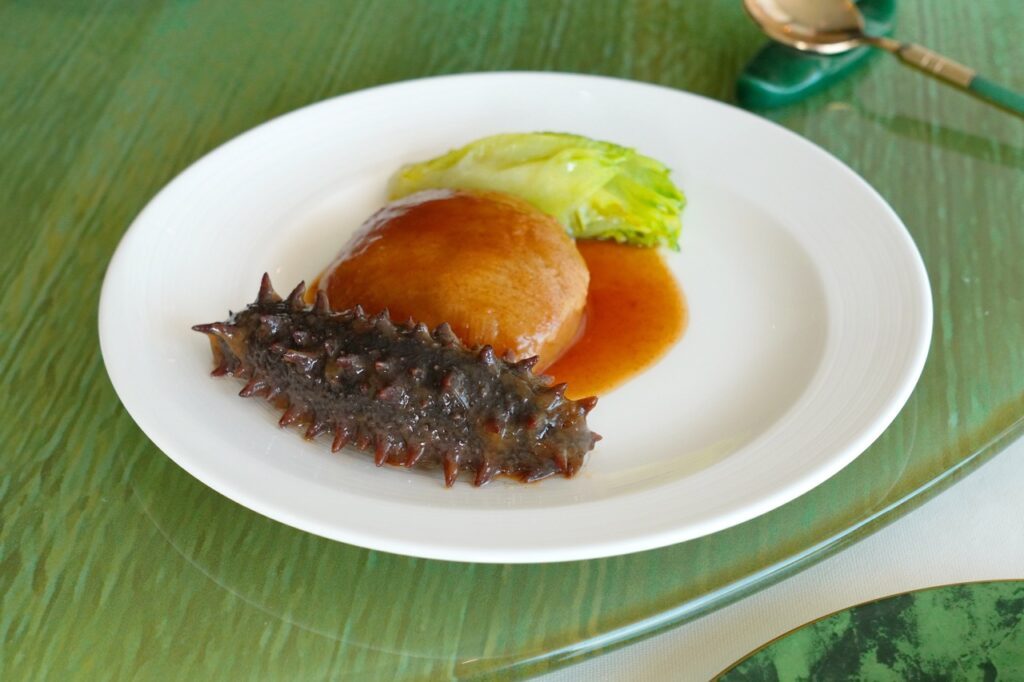 A classic Cantonese feast is never quite complete without a Steamed fish. Chef Lai creates his own blend of pomelo soy sauce, where the refreshing zing of pomelo adds freshness to the soy sauce that elevates a classic Steamed Spotted Garoupa Fillet with Pomelo Soy Sauce. Adding a touch of citrus into the soy sauce enlivens the fish's unctuous texture and refreshing flavours. Poached Fresh Shrimps with Luffa and Mushroom in Supreme Broth. The secret of success in this dish lies within the broth, masterfully crafted with bones from chicken and duck as well as pork skin. The shrimps are fresh and magnificent with creamy luffa. Chef Lai's Bak Kut Teh Xiao Long Bao fuses the Xiao Long Bay classic form with a Singaporean twist, adding the medicinal, pepper-rich pork bone soup made famous in Southeast Asia in the creamy pork filling encased in paper-thin wrappers and steamed to perfection.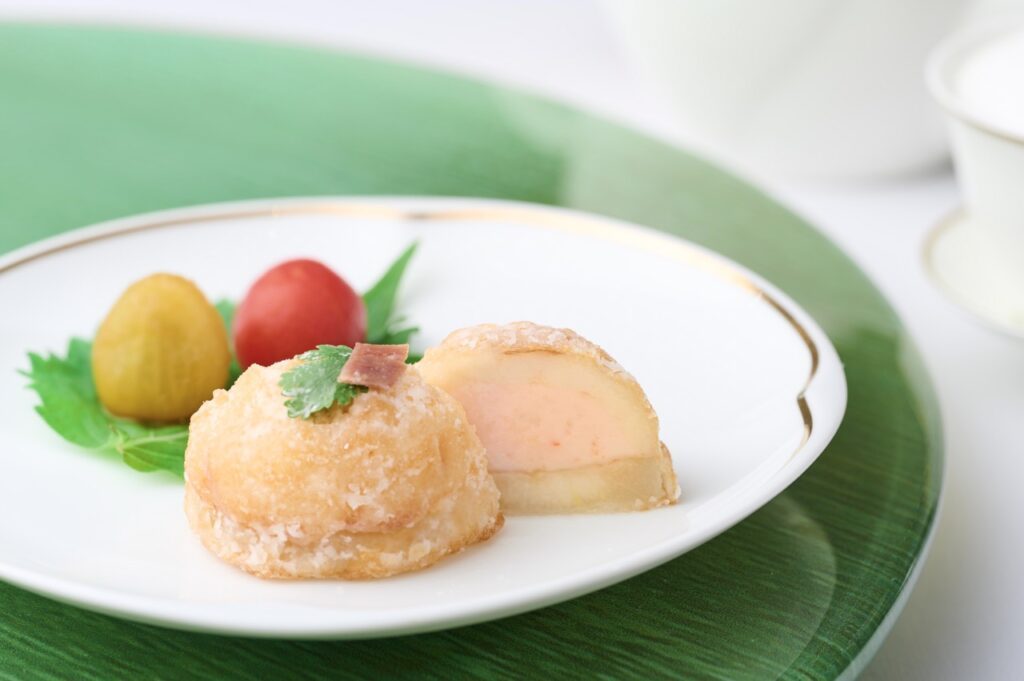 Jade's Autumn Feast Menu concludes with Double-Boiled Whole Pear with Fritillary Bulb in Rock Sugar. The warming fruit-based dessert offers warming comfort and therapeutic properties from sweet pears and Fritillary bulbs, accented with a touch of osmanthus honey that enhances the double-boiled sweet pear. The pear dessert also feature a miniature pear puff served alongside the sweet treat as a fantastic ending.
The Autumn Feast Menu is now available until November 11, 2023. The menu is priced at HK$1,180 per person with a minimum order for two persons.
To further enhance the dining experience, Jade offers an extensive premium Chinese tea menu curated by the in-house tea sommelier and a bespoke tea pairing experience for diners. Jade also provides vegetarian and gluten-free options, as well as a kid's menu to accommodate all palates.