18 Mar 2022 By AWAY IN STYLE
The Very Cool Zegna Jacket
It is the inventive concept that ZEGNA has always borne in mind to keep pace with the times while inheriting its legacy and craftsmanship. Fully understanding the diverse needs of modern gentelmen in light of today's changing world, Artistic Director Alessandro Sartori skillfully combines practicality and pragmatism with quintessential Italian tailoring know-how, to launch a versatile wardrobe that attends to various needs. A classic alternative to the casual blazer, The functional but luxurious New Jacket is a mixture of the sartorial and the utilitarian. This hybrid jacket combines the smart and the casual, indoors and the outdoors.
The world that we know has been experiencing challenges these years. Many received rules have become outdated, and new orders are being formed. The boundaries between occasions are no longer absolute. A case in point is the concept of "home" – a place nowadays not limited to daily living only. For many, home is also a workplace. In contast, lots of occasions traditionally considered formal are also becoming more relaxed. Against the background of the new era, modern gentlemen styles require an inevitable change. The reinvented ZEGNA new jacket combines sophisticated silhouettes and comfort. Putting practicality and functionality at the core, the new jacket presents both luxury and leisure – perfect for both indoor and outdoor use, and a flexible response to a variety of scenarios. A casual yet elegant look can be easily created when pairing it with another ZEGNA signature – the Triple StitchTM Sneaker.
A centre piece from the stylish, functional and versatile Luxury Leisurewear collection, the New Jacket takes design cues from traditional workwear and features unique patch pockets, available in various premium fabrics in refined, neutral tones – among which the VICUNA color echoes ZEGNA's signifier, marking the brand's refreshed aesthetics. An iconic product in the modern ZEGNA wardrobe, the new jacket not only connects occasions, but also comes in a unisex style to disrupt gender boundaries.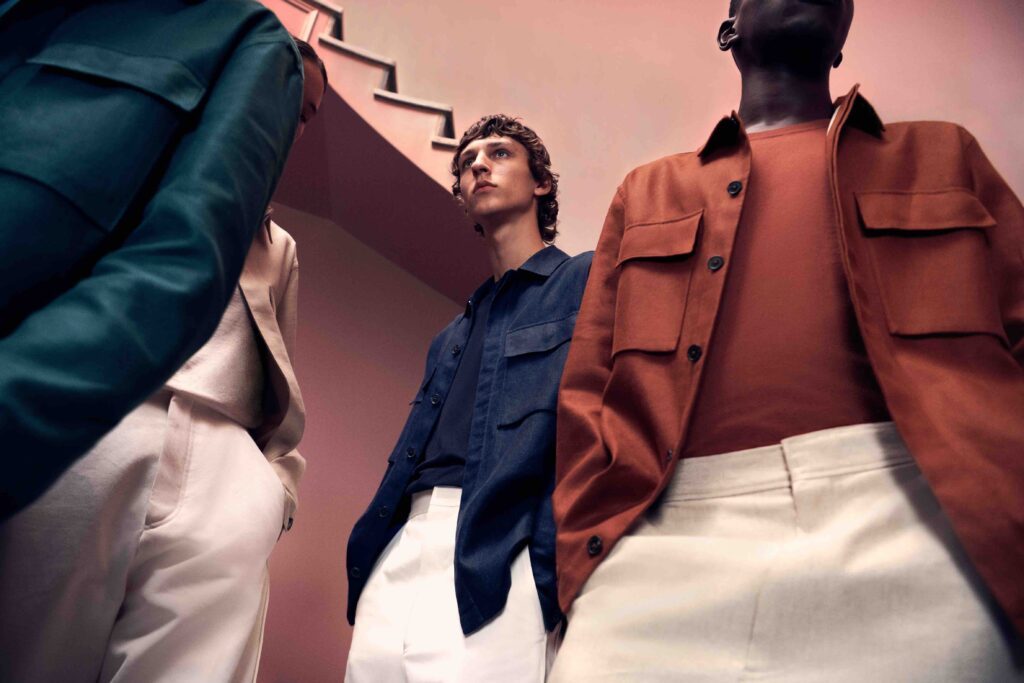 在傳承歷史匠藝的同時與時俱進,是 ZEGNA 一直所踐行的前瞻理念。充分考慮到當代男士因應如今不 斷變化的生活背景而產生的多元需求,品牌藝術總監 Alessandro Sartori 先生巧妙結合 ZEGNA 意式剪裁 精髓與實用主義,推出能適應多場景及不同風格穿搭的多元化現代衣櫥。作為可替代休閒西裝外套的經 典物件,重塑外套(The New Jacket)反映出當今的世異時移。全新的休閒風格剪裁手法結合品牌優質 物料,打造出功能性十足的奢華體驗,大膽跳脫傳統的著裝規範和場合限制,令室內與戶外無縫連接。
近幾年,我們所熟知的世界經歷挑戰,許多成規已是往昔,新的秩序正在形成。場合與場合之間的界限 越來越模糊。例如,「家」的概念已不再僅僅是吃飯、睡覺與日常起居,對許多人來說,家也意味著辦 公場所。相對而言,很多傳統意義上的正式場合也變得沒那麼拘謹。在此時代背景下,全新的當代男士 著裝風尚應運而生。ZEGNA 重塑外套融合精良剪裁輪廓與舒適感,多元化的設計以實用性為核心,是精 緻與休閒、室內與戶外用途的完美結合,可靈活應對多種場景。與另一 ZEGNA 標誌性單品 Triple StitchTM 運動鞋搭配,可輕易穿出各式休閒優雅造型。
重塑外套來自時尚、實用且多功能的 LuxuryLeisurewear 系列,從傳統工作服裝中汲取設計元素,且配 有獨特的貼袋,備有以多種上乘面料製成的款式,以精緻的中性色調呈現,確保可輕鬆穿搭。其中 VICUNA 駱馬紅棕色款式更呼應重塑後的 ZEGNA 標識,標誌著品牌的煥新美學。作為 ZEGNA 現代衣櫥的標誌性 產品,重塑外套不僅打破傳統場合桎梏,還突破性別界限,女性亦可駕馭,配搭出優雅閒適的現代時尚 氛圍感。