Toei Animation HK-First TOEI E-STORE POP UP debuts in Amaz By Lokianno
Licensed by Toei Animation
HK-first TOEI E-STORE POP UP debuts in Amaz By Lokianno
Selected Goods available both Online & Offline
One Piece: Chapter 1000 Feature Exhibit
1:1 ratio Luffy & Law figures capture the spotlight
+ Chapter 1000 limited-edition poster & goodies
Pretty Cure Zone + collectibles straight from the animation!
Be the 1st to Experience One Piece + Pretty Cure Tote Bag-Making Workshop
Amaz By Lokianno's ExhibitShop concept – an amalgamation of exhibition and shop –  has debut in Causeway Bay! Spanning 10,000+ sqft and split into 6 zones, the ExhibitShop welcomes visitors to a bizarre wonderland. Its latest addition is the Toei E-Store by the Official Toei Animation that brings the best of Japanese animation straight to Hong Kong. Taking centerstage this December is an exhibition of two prominent tales, One Piece and Pretty Cure. Don't miss out the One Piece Chapter 1000 exhibition, plus 1:1 life-sized models of Luffy, Law and the rest of the Straw Hat Crew! Finally, making a special appearance on the streets of Causeway Bay is a life-sized Luffy holding the "Chapter 1000" flag!
The much-anticipated Toei E-Store by the Official Toei Animation debuts in Hong Kong
Toei Animation's esteemed works are known far and wide: Hong Kong fans are finally getting their own TOEI E-Store from Toei Animation right here in the city! A part of Amaz By Lokianno, the TOEI E-Store will host over a hundred goodies both online and offline. Taking the spotlight this December from renowned anime One Piece. Stay tuned for more updates on the e-shop!
One Piece: Chapter 1000 Exhibit Featuring 1:1 ratio life-size figures of Luffy & Law
One Piece has taken the world by storm and has rung in its 1000th chapter as our heroes sail into Land of Wano . The entire Straw Hat Crew will be meeting fans at the Toei Exhibit at Amaz By Lokianno: taking the spotlight is a 1:1 ratio life-sized figure of Luffy plus his friends! And don't miss out the selected merchandise – such as the 1000th anime poster from the 1000thchapter! Try your luck and see if you can grab yours!
The One Piece: Chapter 1000 Exhibit is complemented with a Pop-Up Shop including the limited-edition T-Shirt printed with the One Piece: Chapter 1000 poster and logo. Available on a first-come-first-serve basis, so grab yours while you can!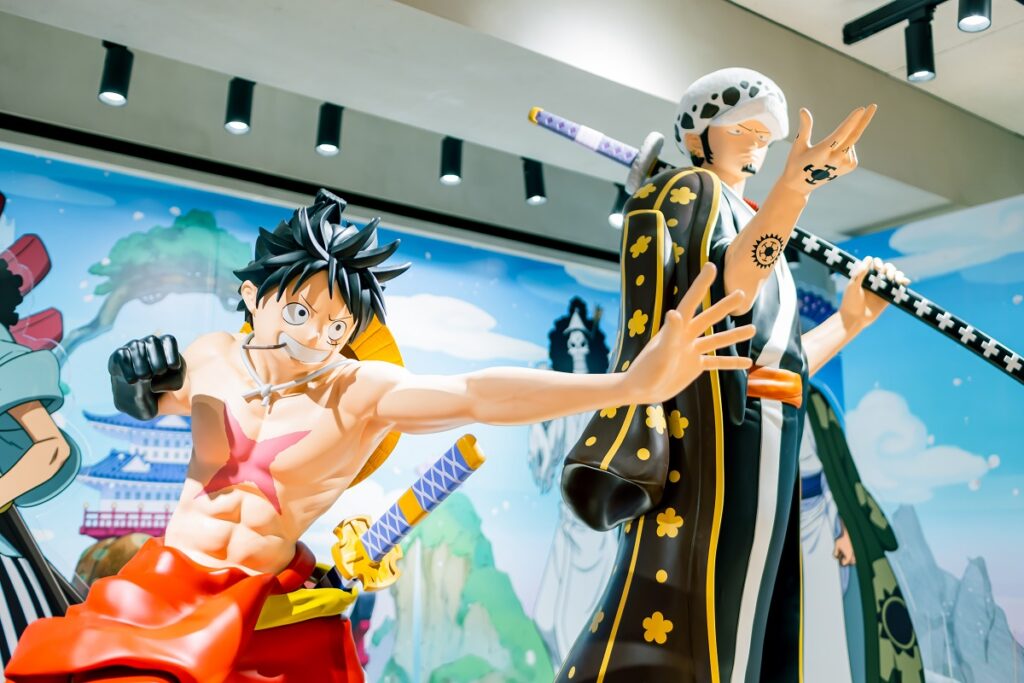 #1 in Hong Kong: Pretty Cure Exhibit feat. the most complete set of collectibles from the animation
Debut since 2004, Pretty Cure has graduated from the Heisei era to the current Reiwa Japanese calendar. No wonder it's regarded as the national anime for young girls! The Pretty Cures will take the spotlight at Amaz By Lokianno's Toei Exhibit as life-sized cut-outs perfect for photo-ops. Backdrops of the scenes straight from the anime plus exclusive merchandise will also make an appearance at Pretty Cure's first exhibition in Hong Kong! Whether you're a supporter during the Heisei or Reiwai periods, fans shouldn't miss out all the Pretty Cure goodies!
After your shopping spree, take part in TOEI E-STORE's Tote Bag-making Workshop by the official TOEI Animation! Their minimalistic design makes them perfect for everyday use. Purchase any TOEI E-STORE tote bag to participate in the workshop. Select from three different prints from One Piece or Pretty Cure!
Shopping Galore: spend more for more rewards!
Don't let the fun stop with Toei Animation.  Spending of HK$500 or more will receive a special-edition One Piece Chapter 1000th poster.  Like and follow our Pretty Cure Facebook page to receive a special-edition poster! Become a shop member at the Toei Shop to receive a special gift.  Don't miss out!
Amaz By Lokianno  — Toei Exhibit :One Piece Chapter 1000 + Pretty Cure
Time:
12pm – 9pm
Address:
Basement,  2-4 Kingston St, Causeway Bay, Hong Kong
details:

Spending of HK$500 or more will receive a special-edition One Piece Chapter 1000th poster
Like and follow our Pretty Cure Facebook page to receive a special-edition poster
Become a shop member at the Toei E-store to receive a special gift