Tong Chong Street Market's Beer Festival Returns with a Thrilling Beer Playground, Featuring Hong Kong's Top Local Brewers & 2023's Trendiest Social Games
Tong Chong Street Market's Beer Festival Returns with a Thrilling Beer Playground,
Featuring Hong Kong's Top Local Brewers & 2023's Trendiest Social Games
From 12-14 October, Taikoo Place celebrates the best of Hong Kong F&Beer with an exciting line-up of 15 local beer brewers

Offers 70+ beer flavours including an exclusive collaboration with upcycling start-up BREER – all crafted with a focus on local produce, innovation and sustainability by homegrown brewer
Tong Chong Street Market (TCSM), the ultimate destination for gourmet food, eco-conscious eating, local craftsmanship and creative innovation, proudly presents the highly anticipated return of its Beer Festival on 12 – 14 October. This extraordinary event invites all F&Beer lovers to embark on a beer tasting journey.
Beyond the enticing four hours of free-flow beer and a selection of mouthwatering dishes, dive into the excitement of our beer-tastic playground nestled in the new Taikoo Garden at Taikoo Place. Highlights include a larger-than-life beer pong, pickleball (the world's fastest-growing sport soon overtaking tennis!), tube table tennis – a fun twist to a classic sport challenging those who thought they knew table tennis – as well as cornhole, the beloved social tossing game said to soon land a shot at the Olympics, amongst other pulse pounding games. Get ready to sip, savour, and play your way through an unforgettable beer-filled adventure!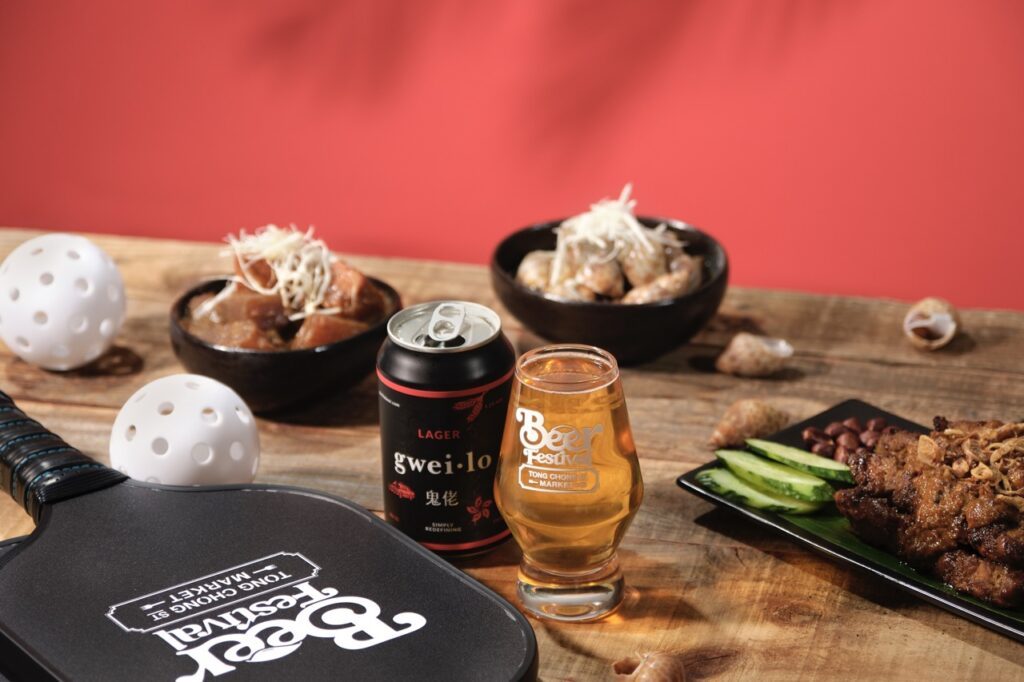 Young Master Brewery is a trailblazer in the Asian craft beer scene that operates the largest craft beer brewhouse in Hong Kong. In collaboration with Amber, an innovative and sustainability-driven French fine dining restaurant that boasts both two-star and Green-star Michelin status, and Farmhouse Productions, a coop of local farmers committed to regenerative farmers committed to regenerative farming and sustainable practices, they transformed surplus lychee into a delicious and sustainable beverage – Lychee Wild Ale.

Experience Oktoberfeast 2023, the highlighted beer from Deadman Brewery, a local nano-brewery in San Po Kong since 2018. This naturally carbonated beer captures CO2 produced during fermentation, reducing emissions by 12% compared to forced carbonation, while enhancing foam quality to deliver a thicker, creamier texture and better lacing.

Heroes Beer Co., a revered local brewer on a mission to shed light on the untold stories of real-life heroes in Hong Kong. They will be proudly presenting Kupzzy – a Double Hazy IPA locally brewed in collaboration with influential local indie band Rain in Time, allowing beer drinkers to taste and experience the band's passion for music.

Carbon Brews will offer its exceptional Bright Side that is also brewed with sustainability in mind, inviting beer lovers to explore the brighter side of life through this refreshing hop-forward pale ale with its spent grain being recycled and converted to pure energy, which is utilised to contribute to the nourishment of Lantau, a part of the local ecosystem.

Another highlight is the special collaboration between N.I.P x Mezzanine Makers with their exclusive Jasmine Tea Gin & Tonic (J&T), which combines fragrant citrus and jasmine tea flavours with Rare Dry Gin and local tonic water.
All tickets will be released on 21 September, with pricing* as follows:
Taikoo place tenants: https://bit.ly/3t20HA8
Public purchasing link: https://bit.ly/3rgpPmd
| | |
| --- | --- |
| Taikoo Place Office Tenants | HK$320 – exclusive to eligible Taikoo Place office tenants; purchase through the Taikoo Place App (please download the link here) |
| Public | HK$380 – purchase through ticketing link here |