Trattoria Kagawa by Mihara Redefines Classic Italian Dining – Bringing New Buzz to Ship Street
Japanese Master Chef Terufumi Mihara presents tastes of Kagawa prefecture  marrying the art of teppanyaki and Italy's culinary traditions
Japanese master chef Terufumi Mihara who builds upon a seasoned international reputation debuts Trattoria Kagawa by Mihara at J Senses on bustling Ship Street, Wanchai, on 28 October 2022. Conjuring a thrilling array of refined Italian-Japanese delicacies, his latest Hong Kong venture introduces the culinary delights and fresh produce of Kagawa, his home prefecture, while borrowing from the homely, hearty fare of traditional trattorias.
By fusing Chef Mihara's time-honoured culinary heritage – the Kagawa-born chef began his career in Italian restaurants in Osaka ­– with his Japanese 'wa modern' instincts and his love of Italian comfort food, this vibrant new trattoria promises sensational gastronomic discoveries and an eclectic atmosphere for Hong Kong's adventure-seeking diners.
Trattoria Kagawa by Mihara's warmly inviting décor reflects the olive tones synonymous with Kagawa, the smallest of the Japanese ken, tucked between the mountains and the sea on the southwestern island of Shikoku. A mild climate spurred the planting of olive groves in the early 20th century, leading to the specialities of wagyu, chicken and pork raised on feed infused with olive oil or ground olive leaves.
The well-travelled chef has sourced meticulously from the rich harvest of his home prefecture – more than 80% of ingredients hail from Kagawa – as well as found inspiration there for his creative dishes. The East-West serendipity is revealed in a menu spanning appetisers and small bites, teppanyaki, pasta and risotto, meat mains and desserts. Chef Mihara's renowned wa modern-style of omakase dining is also available upon request (subject to 2-day pre-ordering), and guests booking the trattoria's cosy semi-private area, which comfortably seats 10 people, can tailor their own menus guided by the master.
The showpiece 10-seat teppanyaki bar counter is the best spot in the house to appreciate the nifty handiwork of the culinary team as they chop and grill with gusto and artistic flair. This is the stage for Chef Mihara to present his finest culinary expressions – seafood and meat specialities such as Live Australian Lobster (HK$888), Live Japanese Abalone (HK$488), Wagyu Beef Rossini (HK$358), Smoked Spanish Iberico Pork (HK$268), Agnello alla Scottadito (HK$278) – finger-burning Italian grilled lamb chop, and more. Jet-fresh seafood can be chosen directly from the trattoria's glorious fish tank, a live-action window of potential fresh catches for diners to browse.
Olive-fed wagyu raised on the hillsides of Shodoshima is a prime signature of both Kagawa and the house. Cooked on the teppan, it brings melt-in-the-mouth softness to Japanese Wagyu Beef Tagliata (HK$218), which showcases different cuts of beef delivered to Hong Kong. This richly marbled, buttery, supremely sweet meat stems from fattening cattle in the latter stages of rearing with cakes made of pressed olives.
Signature starters include Caprese with Tomato Sorbet (HK$108) featuring Kagawa's plump tomatoes, and Trippa alla Kagawa (HK$68), slow-cooked tripe with homemade sauce using Japanese tomato, Kagoshima egg and parmesan cheese. Japanese seasonal vegetables star in appetisers of Bagna Cauda (HK$108); Japanese Chicken Karaage (HK$68) served with sides of sesame and anchovy tartar sauces – which combines two classic sauces of Japan and Italyand Fritto Misto (HK$78). Small servings such as the not-to-be missed pungent Kagawa Style Garlic Toast (HK$38), Prosciutto (HK$68), and the salty-sour splendour of house-made Kagawa Olive (HK$38) slip down beautifully with favourite wines, sake or cocktails.
In the artisanal tradition, Chef Mihara makes his own pasta using flour and egg from Kagawa, and packs the sauce with the plentiful fruits of Japan's waters – as in his personal favourite of Uni Carbonara (HK$238), and Aglio e Olio (HK$168), a creative take on the pasta staple of aglio e olio embracing whitebait, mizuna, peperoncino (hot chilli peppers), and bottarga flakes with Kagawa garlic and chilli. Decadent Risotto alla Milanese (HK$308) featuring Boston lobster and saffron sauce, Risotto al Nero di Seppia with Hokkaido sea urchin, Japanese squid, parmesan and squid ink (HK$238); and Foie Gras and Eel Risotto (HK$188) are standouts among the Italian-style rice presentations, which are all freshly cooked on the teppan grill.
Given Chef Mihara's pastry prowess it is no surprise that the dessert menu spoils the sweet-toothed for choice. Naturally there is Tiramisu (HK$88), though a lighter, fluffier Japanese-inspired interpretation, but inventive twists like Macadamia Souffle (HK$118), and the amazing Biancomangiare (HK$78), centred upon the centuries-old fermented-rice drink of amazake, induce a delectable dilemma at the end of a soul-warming feast.
Adding to the attractions of an expansive à la carte menu of authentic Italian recipes reborn with Japanese refinement, and the rhythmic beauty and excitement of seafood, meat and vegetables cooked at the buzzing teppanyaki counter is an alluring list of cocktails mixed with Latin flair from the "Cin Cin" cocktail bar cart – which can be hailed for the gin-based Hot Litchi (HK$88) laced with lychee and shiso bitters, the yuzu-infused Kochi Spritz (HK$88), or perhaps the Kinkan Angel (HK$88) in which kumquat and elderflower liqueurs are paired with vodka. This on-the-spot interaction between bartender and reveller invokes extra lively shouts of 'Cheers' ('Cin Cin' in Italian).  A more than ample array of Italian wine, draught and bottled beers, spirits, sake, and soft drinks are also available.
Lunchtime presents a substantial three-course set menu (from HK$148-HK$208) with seasonal salad and homemade Steamed Italian Egg Custard – the traditional Japanese chawanmushi with an Mediterranean twist; and a choice of daily pasta or risotto followed by a lighter reimagining of a dinner main.
Chef Mihara, a certified Master Chef from the Osaka School of Culinary Arts and award-winning dessert craftsman, spent the first six years of his career working in Italian kitchens before heading abroad for nearly three decades – his stint as Chief Chef at the Japanese Consulate in Chicago saw him cook regularly for dignitaries and celebrities. He landed in Hong Kong in 2005 to open Japanese-Mediterranean fusion restaurant KURAUDO and subsequently launched TEPPANYAKI MIHARA in Tseung Kwan O, where he also serves as Head Chef.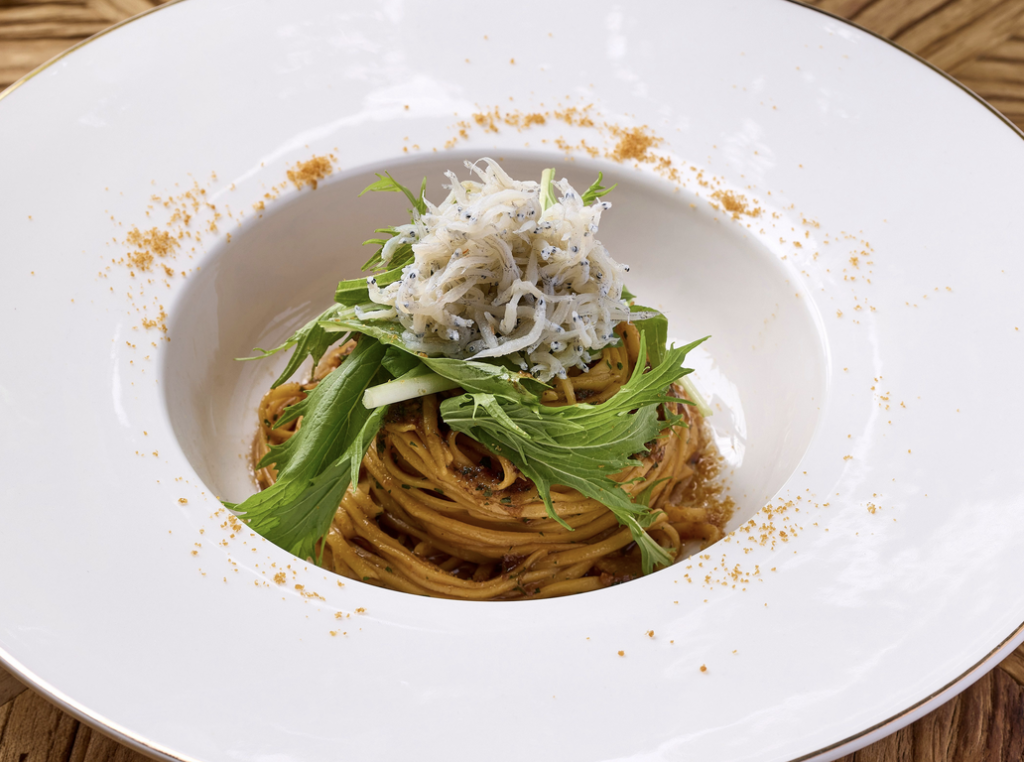 Trattoria Kagawa by Mihara's 1,000-square-foot dining area seats 32 people including 10 in the semi-private room, while a further 10 can be accommodated in the small outdoor area ideal for al fresco aperitivos, postprandial imbibing and relaxing weekend gatherings.
Behind the Italian-Japanese trattoria's heavy wooden doors is a joyous ambience of olive green and grey hues that reveals hidden Zen-like treasures and the high-energy vibes of the outdoor space; while the teppanyaki bar is carved from darkened Japanese oak with sleek Italian finish.
At its back, a serene mural depicts a navigation map to Kagawa's culinary, cultural and geographical attractions. The semi-private dining area, meanwhile, boasts a majestic display of multiple Marugame uchiwa fans, the traditional paper craft of the Kagawa city.
Trattoria Kagawa by Mihara is located at G/F, 18 Ship Street, Wanchai, Hong Kong, and opens daily from 12:00 noon to 2:00 p.m. and 6:00 p.m. to 12:00 a.m.
For enquiries or reservations, please call (852) 5394-3690 or email trattoriakagawa@ponghk.com.
For more information, please visit:
Facebook: www.facebook.com/trattoria.kagawa/
Instagram: www.instagram.com/trattoria.kagawa/