18 Nov 2021 By AWAY IN STYLE
Travelling To Phuket? Here Are Seven Hotels For Each Type Of Traveller
Accor invites travellers to discover seven unique experiences in Phuket across a truly diverse collection of resorts
Travel is making a comeback after 19 months of postponed trips. Many destinations are now reopening, including Phuket. The tropical island in the Andaman Ocean is welcoming travellers back to its breath-taking beaches, cultural hotspots, delicious local cuisine, and friendly Thai hospitality. As the largest hotel operator in Thailand, Accor offers 22 resorts in Phuket under seven brands. Each brand has its own unique character and offers a variety of experiences to suit the needs of every traveller.
MGallery
– For adventurous and engaged explorers who appreciate unique, authentic experiences…
MGallery is a collection of storied boutique hotels inspired by the local destination. Each hotel is singularly captivating and tells a unique story, inviting guests to immerse themselves in tales of heritage, serenity, or art. From bespoke design to well-being experiences, MGallery offers unforgettable memories to guests.
At Avista Grand Phuket Karon, contemporary elegance is elevated by Phuket's Sino-Portuguese heritage, along with striking artistic references to its glorious tin-mining past, where light coloured woods, fabrics and materials combine with bold metals and bright gold. Design elements also draw their inspiration from lives and culture of the local elite. Further south, the newly opened V Villas Phuket – MGallery embraces its surrounding landscape of a verdant hillside overlooking Ao Yon Bay. Designed to harmonise with nature, V Villas Phuket is inspired by the elegance and beauty of natural pearls from the farms across the bay. The jewel's ivory, cream and alabaster colour palette are reflected throughout the interior design of the resort.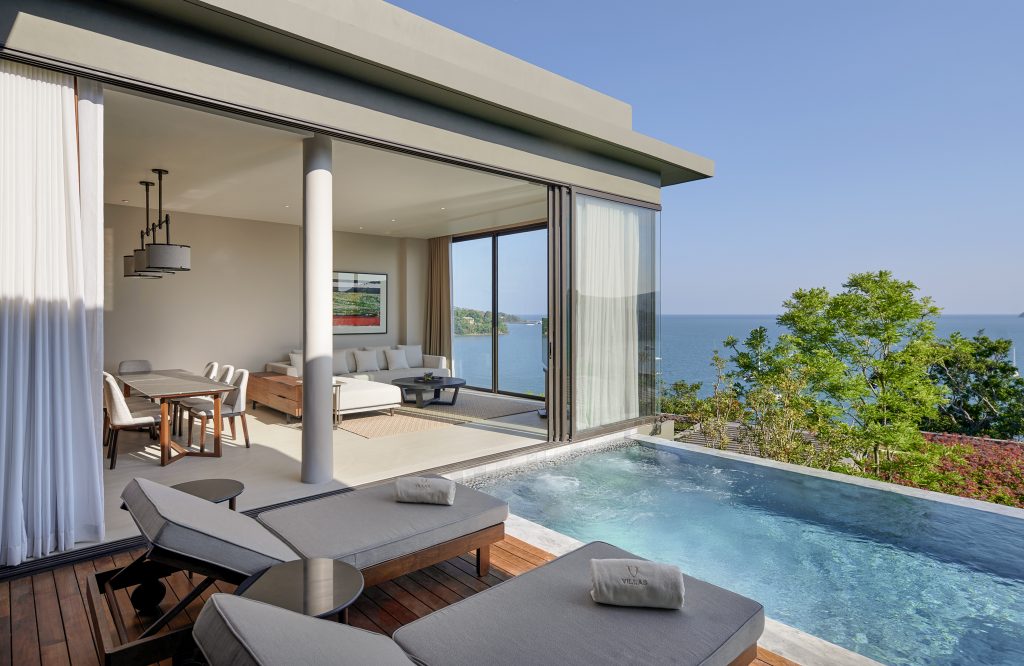 Pullman
– For entrepreneurs and nomads seeking dynamic, stylish destinations…
An energizing playground to recharge and reconnect, Pullman is a lively hub that welcomes guests with the space they need to focus, work, and play. With exploration, comfort, and immersive design at its core, Pullman allows guests to stay on top of their game with exciting wellness offerings, happening restaurant and bar concepts, as well as connections to the local neighborhood.
Pullman Phuket Arcadia Naithon Beach commits to wellness holiday with offerings such as the health hub, Bowls & More, serving nourishing food and beverage, and a series of fitness activities. Pullman Phuket Panwa Beach Resort turns the Andaman Ocean into an exciting playground with plenty of fun activities such as kayaking, paddle boarding, and Marine Walk to aqua yoga and Thai boxing.
Mövenpick
– For those that love to appreciate life's essential pleasures through moments of true indulgence…
Mövenpick believes in making moments, recognizing that small gestures and attention to fine detail make a big difference. It is a place to savour the flavour of life through its rich and inventive culinary excellence, heartfelt service, and a mindful sustainability program. A unique Mövenpick experience is the deliciously fun Chocolate Hour, staged every afternoon in the lobby.
At Mövenpick Myth Hotel Patong Phuket, guests can relax while immersing in the destination. The resort draws design inspiration from the cultural heritage of the early 20th century while guests can enjoy a dining retreat inspired by the era through a gastronomic tour of local cuisine. Other Mövenpick hotels in Phuket include Mövenpick Resort & Spa Karon Beach Phuket and Mövenpick Resort Bangtao Beach Phuket.
Swissôtel
– For those who agree that life is a journey, so you should live it well…
Swissôtel believes that time and travel are true gifts in life and they should be spent well and wisely. The brand has become synonymous with Swiss hospitality and all there is to love about Switzerland from service, style to the reliability, so guests can feel at ease and recharge.
With its relaxing resort vibe, spacious one to three-bedroom suites and lagoon pool, Swissôtel Suites Phuket Kamala Beach is a warm destination for families to relax and reconnect. Swissotel Resort Phuket Patong Beach perfectly blends Swiss Vitality with the vibrant energy of Patong. Guestrooms are designed for comfort and relaxation. A wide selection of revitalizing treatments can be enjoyed at The Spa.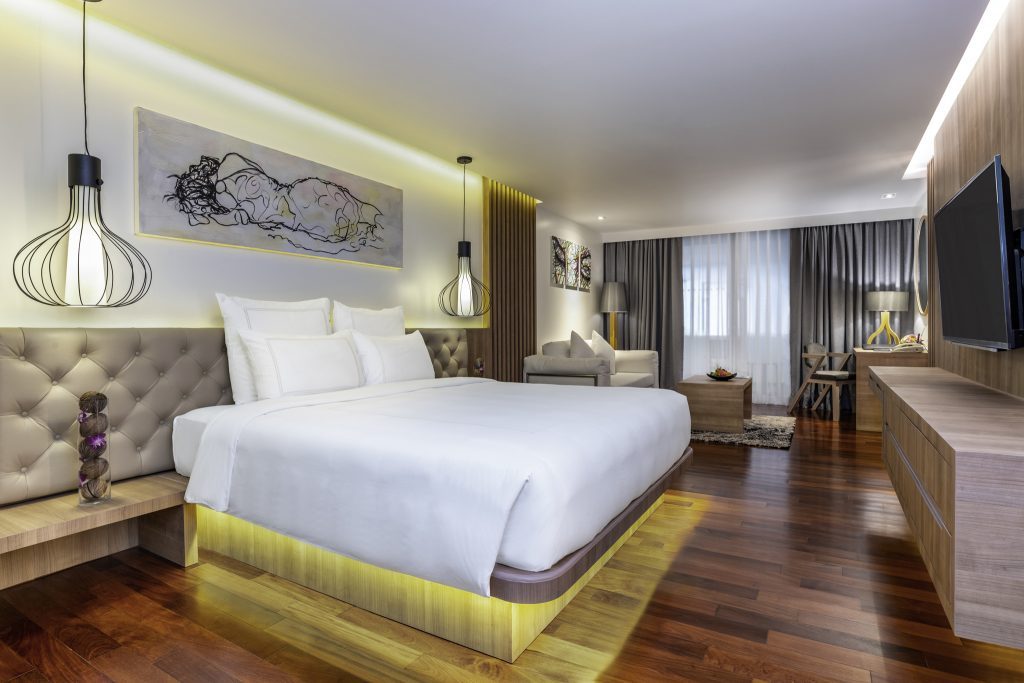 Grand Mercure
– For explorers with an adventurous spirit looking to immerse into the authentic culture…
Grand Mercure evokes a sense of discovery and brings cultural stories to life with modern premium flair. Each hotel revisits the singularity of each destination with a fresh perspective that captures the essence of its culture, spirit, and sensations, to recreate experiences tailored to the local way of life.
Grand Mercure Phuket Patong represents a new generation of retreats that combines natural beauty and cultural heritage, with its traditional Southern Thai-inspired décor throughout the resort, iconic local dishes, traditional spa routines, and fun-family friendly activities.
Novotel
– For life-balance seekers who want to press pause and take time to enjoy the moments that matter…
Novotel believes that quality time is all about making everyday moments matter. Through intuitive and modern design, or rewarding experiences, everyone can disconnect from a busy life or make time to connect with family and friends.
Novotel Phuket Surin Beach Resort is one of the best family resorts in Phuket, featuring a two-storey Kid's World filled with immersive games and activities and a wide choice of spacious family rooms. Nestled in a quiet corner of Kamala Beach, Novotel Phuket Kamala Beach offers a serene and beautiful spot to spend quality time with friends and family. Other Novotel hotels include Novotel Phuket City Phokeethra, Novotel Phuket Karon Beach Resort & Spa, Novotel Phuket Kata Avista Resort and Spa, Novotel Phuket Resort, and Novotel Phuket Vintage Park Resort.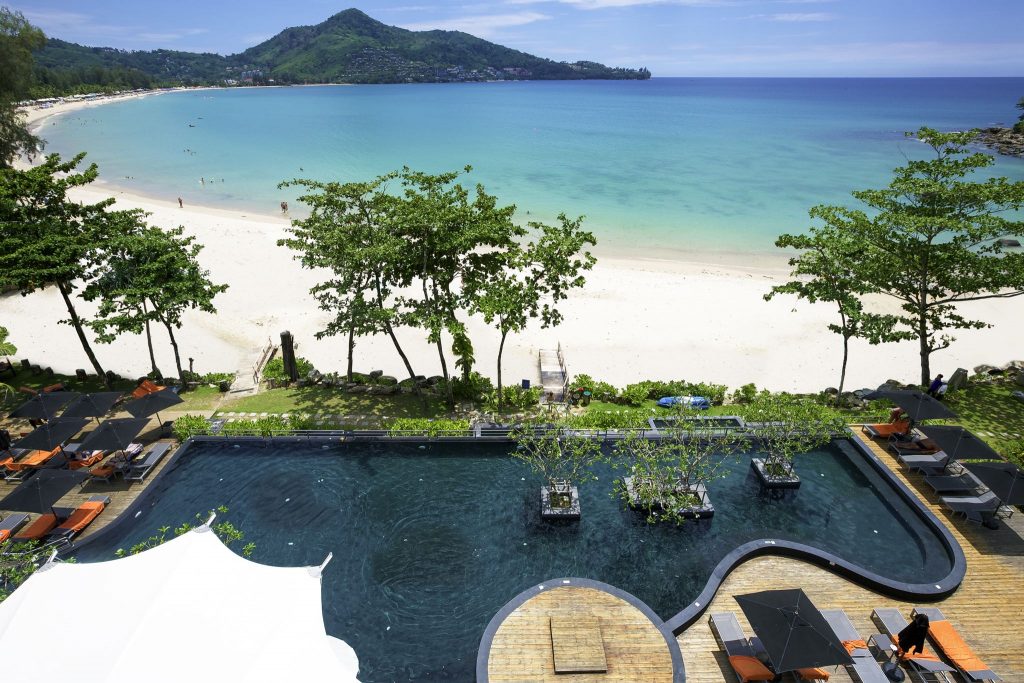 ibis & ibis Styles
– For those looking for a vibrant, and playful base to explore the destination…
ibis offers a vibrant and contemporary atmosphere that makes comfortable and quality hotels accessible to everyone, while ibis Styles offers trendy hotel experiences with creative and playful designs. Every ibis Styles has a unique theme that offers fun, surprising, and instagrammable moments.
ibis Phuket Patong and ibis Phuket Kata offer modern rooms, outdoor swimming pools, restaurants and bars for a hassle-free holiday. Located near the charming Phuket Old Town, ibis Styles Phuket City Hotel brings fun style and creative energy with its playful design that shares the colourful Sino-Portuguese influence.
Rediscover the best of Thailand and reserve your trip now with peace of mind, knowing you can enjoy the flexibility to cancel your stay up to three days before arrival. Guests staying in Phuket can enjoy 20% off 7 night stays, or 30% off 14 night stays. After a 7 night stay in Phuket, vaccinated travelers are able to travel to selected destinations including Khao Lak and Samui, as part of the 7+7 programme.
Phuket is your gateway to re-explore the rest of Thailand. Arrivals can enjoy Phuket for at least 7 days before exploring select destinations or 14 days before traveling to the rest of the Kingdom. For conditions of entry and stay please visit: https://www.tatnews.org/2021/06/initial-information-phuket-sandbox/