Trend-setting 'GASSAN' Presents Theatrical Japanese 'Fishing Village' Dining Experience
Embracing Spirit of Kaiseki at H Queen's Central this November
A trend-setting new Japanese dining brand is launching a theatrical 'fishing village' embracing the social sake-dining spirit of kaiseki culture with the opening of GASSAN in Central this November.
Complete with a traditional 'yakatabune' houseboat, the captivating dockside theme is launched by dynamic restaurant group The Food Story at H Queen's Central as sister restaurant to Hiyama in Harbour City, which opened to widespread acclaim last year as Hong Kong extension to iconic Michelin star Hiyama in Tokyo.
Named after Mount Gassan, highest of Japan's three sacred mountains of Dewa Sanzan, GASSAN continues a tradition of authentic, high quality yet affordable Japanese dining – sociably fuelled by sake, enhanced with a seasoned sommelier handpicking high-quality and seasonal brews for recommending to guests.
Four eclectic dining experiences are styled in different zones around a picturesque, eye-catching pier-side embracing 3,000 sq ft at Central's trendy art and dining hub.
Focused on 'Kaiseki Ryori' banquet-style cuisine, the dimly-lit main open dining area resembles a calm, quiet outdoor park, seating 26, for the brand's 'kaiseki culture' of multi-course sets and a la carte specialties of fresh seasonal produce and catches.
Kaiseki set menus also extend to an elegant 'Grand Private Dining Chamber' for private groups of 14, atmospherically enhanced by dynamic projectors screening pleasing colours, sounds and light of serene seasonal moods, from the kaleidoscope of autumn leaves to cherry blossom season.
At GASSAN, the exquisite dining experience embraced with kaiseki spirit is helmed by Executive Chef Wong Kwun-Wa, who led the group's acclaimed opening of Hiyama, joining hands with Head Chef Hoso Hidekatsu, a 50-year veteran of 'kyo-cuisine' in Japan's ancient culinary capital of Kyoto.
Two alternative 'chef's choice' sushi omakase experiences with private chefs complete the four distinctive zones – including the star attraction of the historic Japanese 'pier-side' interior design, a traditional 'yakatabune' house-boat seating 14, as if adrift from the main restaurant cruising down a river.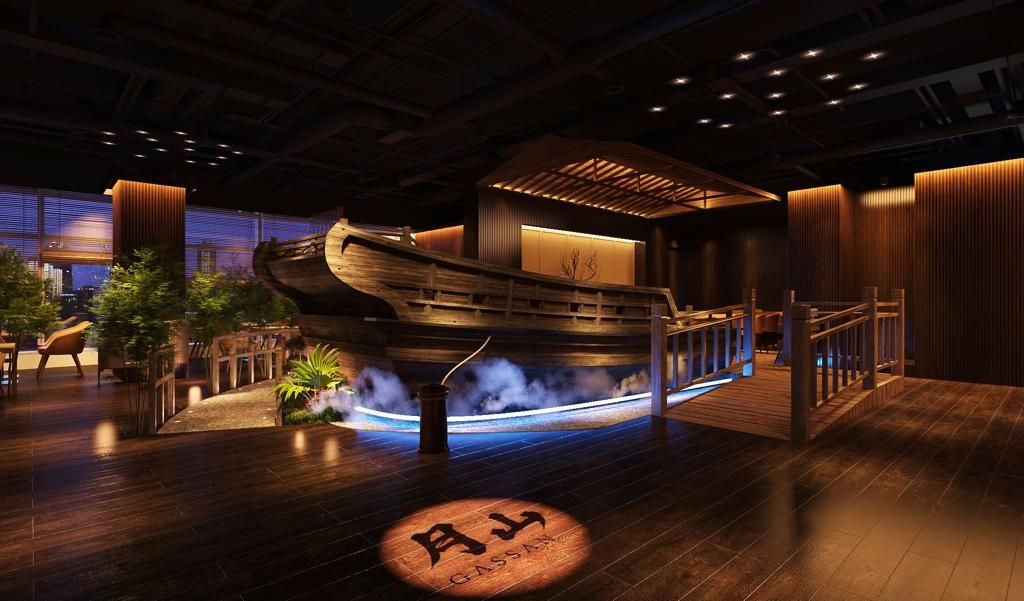 For an immersive omakase experience admiring a private sushi chef at work in more intimate and contemporary style, the 'Omakase Washitsu' private room with traditional counter seating for just 6 is in elegant, modern design, highlighted by natural light 'hinaki' wood features, from trellis ceiling to flooring and window blinds.
Among prized Japanese whisky, Karuizawa is from a distillery which has become legendary worldwide only since closing 20 years ago.  With a steadily diminishing stock of remaining casks and bottles, the value of this remarkable 'wee dram' is rising astronomically – and GASSAN is one of only few sources in Hong Kong.
While GASSAN's pricing is in the moderate 'affordable' range of HK$268 for lunch sets, averaging HK$400-600 upwards per guest for dinner, high quality seafood is still assured – selected by The Food Story's dedicated buyer team at Toyosu Market in Tokyo, and imported jet-fresh daily.
Omakase menus aboard the 'yakatabune' house-boat and in the 'Omakase Washitsu' private room are more selective, priced from HK$888 per person for set lunch, and from HK$1,488 for a range of 'chef's choice' dinner menus showcasing seasonal seafood.
GASSAN seats a total of 60 in four distinctive dining experiences including private rooms accommodating 6 for sushi omakase and 14 for kaiseki.  The 3,000 sq. ft. restaurant opens daily from 12 noon – 3 pm and 6 pm – 10 pm at 19/F, H Queen's, 80 Queen's Road Central, Hong Kong.
gassan@thefoodstory.hk or call (852) 3499-1427.