Upgrade your weekday lunch break with Little Bao's newly-launched Lunch Menu
Lunch is a time for rest and relaxation, and Hong Kong's diners shouldn't have to skip out on good food when seeking their midday respite. Little Bao has just launched their Weekday Set Lunch Menus for one and two diners, recognising Hong Kong's need for quality meals that don't compromise on taste, especially during busy work days.
Helmed by Asia's Best Female Chef, May Chow, Little Bao is well-loved among the foodie community for its creative yet unpretentious approach to food, and meticulously crafted comfort bites. The newly launched Weekday Lunch Menu features both Little Bao signatures and brand new items. Diners are able to pick from the Rice Bowl Combo, the Flying Solo set for one, and the Happy 2gether set for two, allowing solo foodies and social foodies alike to enjoy a tasty midday meal. Both set meals provide a 20% discount on cocktails, beers, and wine, for those craving a boozy accompaniment to their midday meal.
48-hour Chicken Rice Bowl Combo ($158 p.p)
The 48h Chicken Rice features a boneless Three Yellow Chicken thigh that marinates for 24 hours in a secret brine, hung dry to help crisp the skin for another 24 hours, before being slow-cooked then broiled to perfection. Brushed with a teriyaki glaze to bring out its natural juiciness, the chicken goes exquisitely well with the gleaming bowl of Japanese koshihikari rice. Crunchy, tangy takana and takuan are served on the side as perfect, bite-sized palate cleansers. The set also comes with a Mini Pork Belly Bao and Mini LB Caesar.
The Flying Solo menu for one ($158 p.p.) includes one of Little Bao's signature shares as a Starter along with one Main, with the option of adding an Ice Cream Bao and beverage at a small extra cost. A new dish featured on the Lunch Menu is The Chicken Royale, an entire Three Yellow Chicken bone-in leg, brined, cooked sous-vide for ultimate succulence, and then laid on top a soft bed of mash. A shiitake soy jus is carefully spooned over before the dish receives its final sprinkling of chopped scallions for freshness.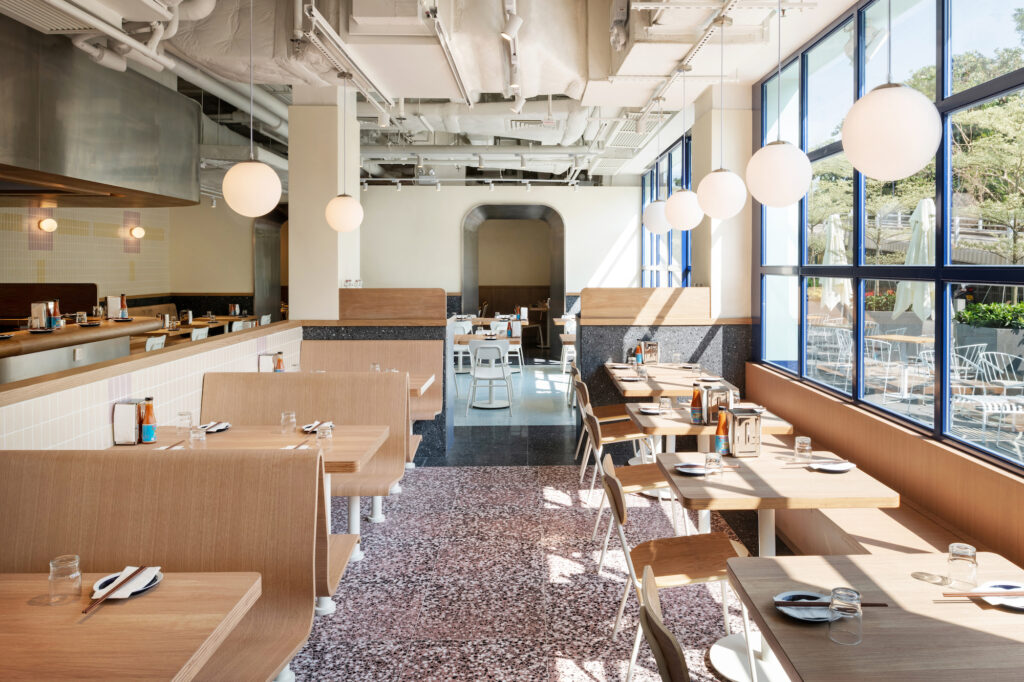 Those dining with friends or a bigger group have the option of ordering from the Happy 2gether menu for two ($168 p.p), which includes a more extensive selection of Little Bao's signature items as well as an extra selection of Little Bao bites. Foodies dining with a plus one share the signature Brussels Sprouts and Truffle Fries, and choose two bites, two savoury signature Baos, and two ice cream baos. Again, there is the option of adding a beverage at a small extra cost.
Whether dining at Little Bao for a noontime date, catchup, or meeting, guests are guaranteed to be spoiled for choice, savouring any of the Lunch Sets in a cosy and contemporary setting.
Hours (Causeway Bay & Soho):

12pm – 6pm (Dine-in)

|

12pm – 9pm (Delivery)

Causeway Bay:

Shop H1, GF, Fashion Walk, Causeway Bay, Hong Kong

Soho (Close on Monday):

1-3 Shin Hing Street, Central
Rice-Bowl-Combo-48-hour-Roast-Chicken-Rice-Bowl-慢煮三黃雞腿肉
Rice-Bowl-Combo-set-for-1_蓋飯組合一人套餐
Rice-Bowl-Combo-set-for-1_蓋飯組合一人套餐