24 Apr 2022 By AWAY IN STYLE
Visionary Architect Bill Bensley Returns to InterContinental Danang Sun Peninsula Resort
Breath-taking Breakout Project
DANANG: Bill Bensley, the acclaimed architect, landscape architect, artist and interior designer who created InterContinental Danang Sun Peninsula Resort, is returning to the scene of his breakout project this year, as this extraordinary resort on Vietnam's Son Tra Peninsula celebrates its 10th anniversary with a series of remarkable renovations.
Nestled in 39 hectares of lush jungle across four idyllic levels – Heaven, Sky, Earth and Sea – all connected by a funicular railway and cascading down to a private bay with a 700-metre-long sandy beach, InterContinental Danang was the project that propelled Bensley to international stardom. His iconic architecture and interior design stimulate the senses and excite the imagination; a riot of creativity, the resort blends Vietnamese culture and contemporary flare with a bold black and white palette, vibrant splashes of color, authentic Vietnamese forms and quirky fixtures and furnishings – all 100% BENSLEY designed, often working in partnership with local craftspeople.
Over the last decade, this has made a lasting impression on thousands of guests and helped the resort to win multiple major awards, including being named as the "Best Hotel in Vietnam" in the DestinAsian Readers' Choice Awards 2022. Now, as the property marks the start of its second decade, Bensley is returning to oversee the upgrade project that will position it for an exciting new era.
At the heart of this refresh will be an adaptation of the original design concept which embraces the environment and enables conservation – a key element of the resort's ethos. During the initial development in 2012, Bensley deliberately consolidated the buildings' footprints to minimize the ecological impact and let nature flourish, especially native species such as the red-shanked douc langurs. This sensitive approach will continue in the resort's next chapter.
New facilities set to launch this year include a collection of four-bedroom villas, a vastly enlarged family swimming pool and kids' pool, a rejuvenated spa, an indoor-outdoor fitness center, two new restaurants, a new reception area, fresh retail opportunities and a brand-new, expanded Club InterContinental Lounge. A dedicated Discovery Center will also invite guests to learn more about the environment of the Son Tra Peninsula, including the critically-endangered red-shanked douc langurs.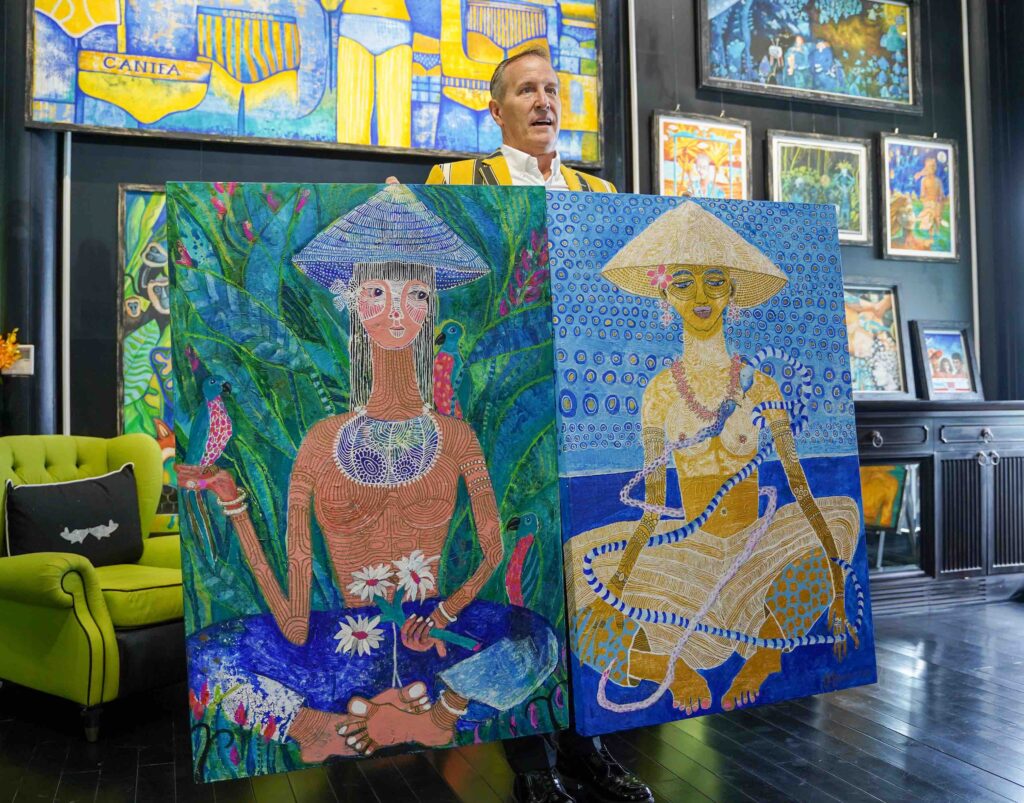 A series of exciting new guest experiences will also be introduced, such as the Nam Tram Dining Journey, a unique culinary adventure onboard the resort's funicular railway, plus a collection of rewarding wellness experiences at the spa. All of these will be completed by the fourth quarter of 2022.
Last year, the resort officially opened the Bensley Outsider Gallery, an elegant pavilion in a cobblestone courtyard that houses a collection of bold, colorful artworks by Bensley himself. This marked the first time Bensley had opened a gallery at any of his 200+ hotels and resorts worldwide, and he is now returning to visit for the first time since its launch. Guests can purchase his artworks and the proceeds are donated to charitable causes, including wildlife conservation in Southeast Asia.
"Bill Bensley is the world's most iconic hotel designer and his extraordinary imagination has contributed immensely to the success of this resort. Now, as we celebrate our 10th anniversary, it is a delight to be working intensively with him once again, as we write the next chapter of InterContinental Danang with an eco-friendly storyline," said Mr. Seif Hamdy, the resort's General Manager.
"When I first conceived InterContinental Danang I delved into the local architectural vernacular, taking my favorite elements from the country's temples and palaces and creating an ode to Vietnam with a modern twist. Now that we are refreshing the resort, we are looking at the natural vernacular: what Mother Nature gave us. My goal is to be a steward to the creatures who live here, and particularly to champion the endangered species of Vietnam," Bill Bensley said.
For information and to rediscover Vietnam with InterContinental Danang Sun Peninsula Resort, please contact 0236 393 8888 or visit www.danang.intercontinental.com.
Bill Bensley | InterContinental Danang Sun Peninsula Resort