Vive Cake Boutique Launching Playful "Dear LuLu"
Tea Set & Cake Collection  to Celebrate First Collaboration with "LuLu the Piggy"
Delightful treats signal triumphant return of beloved icon at
bespoke cakerie in H Queen's Central from now until 28 February 2022
Celebrity-loved Vive Cake Boutique has launched a playful new 'Dear LuLu' tea set and cake collection to celebrate its first collaboration with beloved 'blind box' collectible "LuLu the Piggy", available until 28 February 2022.
Comically styled as if sculptured from luncheon meat, "LuLu the Piggy" became one of Hong Kong's most adored social media sensations when first released in 2019 to celebrate the 'Year of the Pig' – and has since become a highly sought-after collectible.
In collaboration with its creators, Hong Kong art toy company TOYZEROPLUS, VIVE founder Vivien Lau now signals a triumphant return to the limelight for the iconic character in the form of delightful, edible festive treats in a themed tea-set and cake collection – with the bespoke cakerie in H Queen's Central adorned with "LuLu the Piggy" stickers for the fun promotion.
A key highlight of the collaboration, 'LuLu Cone' (HK$980, 1lb), is VIVE's signature uni-cone cake guarded by two "LuLu the Piggy" figures in a choice of five flavours – Red Velvet Buttercake with Cream Cheese, Earl Grey Cake with Earl Grey Cream Cheese, Rich Chocolate Cake with Chocolate Ganache, Banana Cake with Chocolate Buttercream & Crunchies, or Vanilla Sponge Cake with Mango and Yuzu Mousse.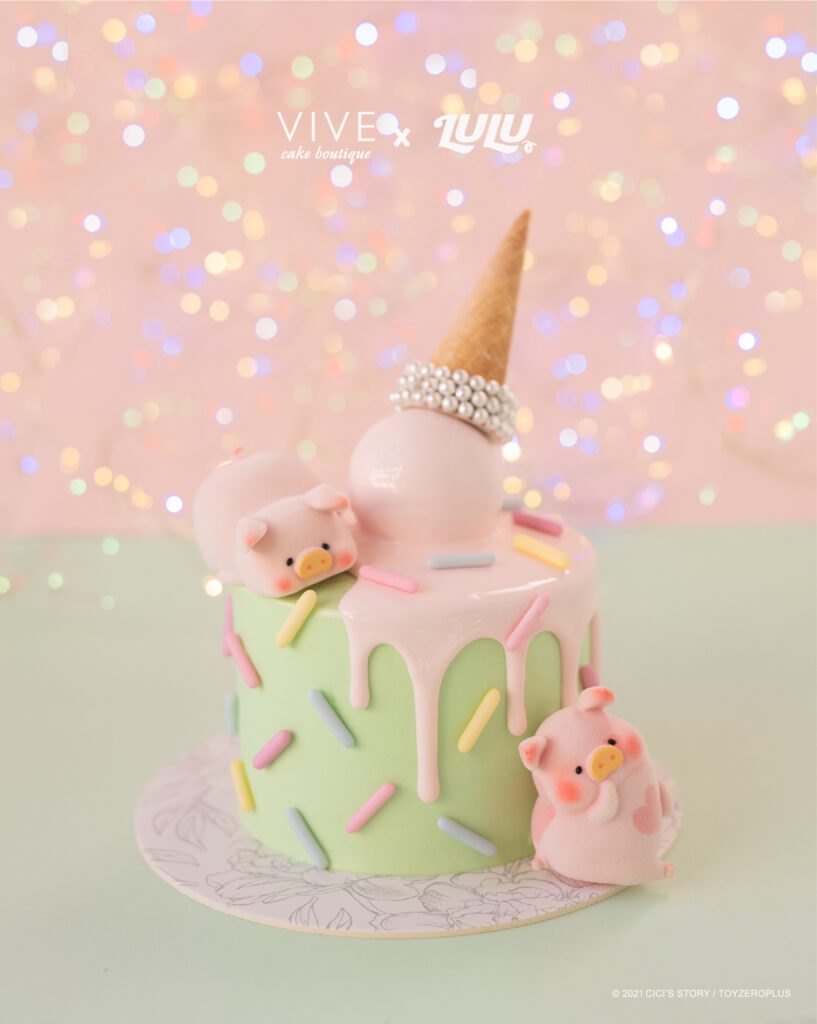 Presented on an ornate LuLu-themed two-tier stand, eight enchanting sweet and savoury delights served with coffee or choice of tea feature LuLu Macaron with raspberry filling, Vanilla Mousse Cake with Mango Compote, Chocolate Cube Cakewith Caramel Filling, Chocolate Chestnut Tart, Raisin Scone with Traditional Clotted Cream and Strawberry Jam, Homemade Ebi Sando crispy sandwich, sushi-style Luncheon Meat Musbi and Foie Gras Puff Pastry.
In VIVE's signature style, all are made freshly from finest ingredients sourced from all over the world. VIVE also has its personal delivery team to ensure cakes are delivered with care, priced from HK$200 depending on the location.
Vive Cake Boutique has proved a roaring success story since being launched with online orders in 2014 by founder and creative director Vivien Lau, who discovered her passion and talent by chance, making her first cake for a friend's birthday.Ever since, Vive Cake Boutique's signature insta-worthy buttercream cake collections have brought immense joy to dessert lovers in the city, beloved by fans of all ages.
VIVE's widespread acclaim includes Time Out's listing among the "crème de la crème of Hong Kong's bespoke dessert makers" – with a massive celebrity and socialite following including Aaron Kwok, Charlene Choi, Gillian Chung, Niki Chow, Sharon Chan, Miki Yeung, Ella Koon, Myolie Wu and more.
Open from 11:30 am to 8 pm on Monday to Friday and 11 am to 8 pm on Saturday, Sunday & Public Holiday.  Vive Cake Boutique is located at Shop 3, 1/F, H Queen's, 80 Queen's Road Central, Hong Kong, with 18 seats offering.