When Dreams Become Reality: Introducing Rêveri, Sheung Wan's Newest Casual Fine-Dining Concept
With more gourmands on the lookout for trendy new dining spots, Hong Kong's fine dining scene has been long overdue for a reinvention. Launching in early November in an up-and-coming neighbourhood in Sheung Wan, Rêveri is the brainchild of founders Jessica Kesumo and John Law, who first envisioned creating a restaurant together in 2018 after helping establish a family friend's restaurant in Indonesia.
The now-married couple first met in Sydney, and were brought together because of their shared love for F&B and hospitality. Founder Jessica pursued a career in the hospitality industry because of her passion for interacting with people from all walks of life. She met John in 2011, when he was pursuing his career as a chef. They both returned to his native city of Hong Kong shortly after, where they both settled their roots in the local F&B and hospitality industry.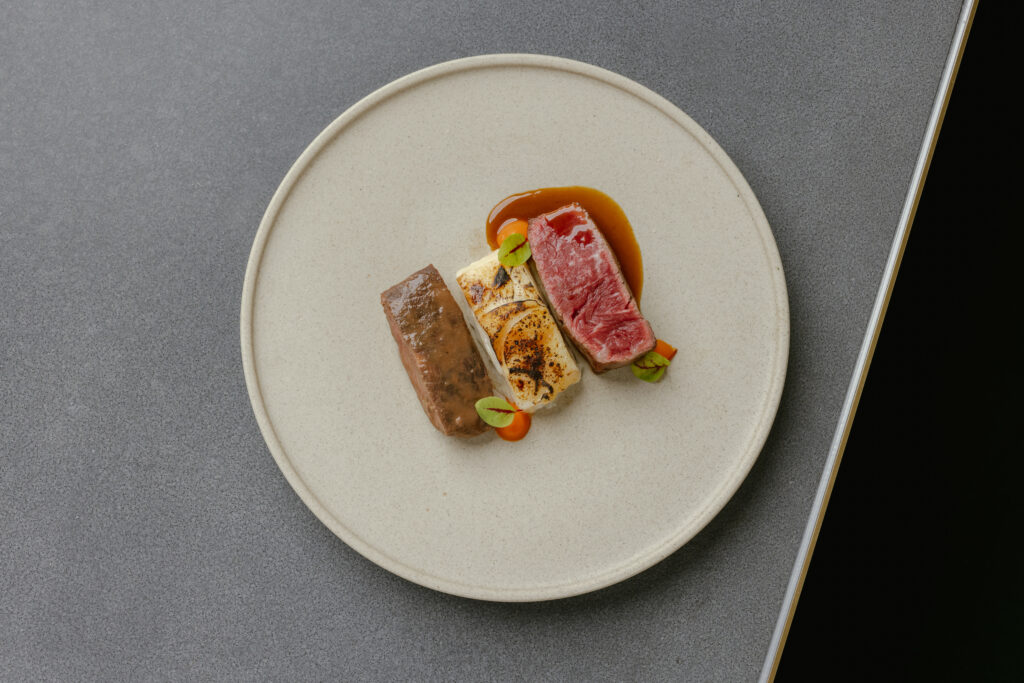 After 11 years of building their own individual careers and expanding their repertoire, the couple are now seeing their dreams turn into reality with Rêveri's highly-anticipated opening, creating a one-of-a-kind fine dining experience that is both delicious and accessible. The name of the restaurant aptly translates to "dream", drawing inspiration from the couple's journey in conceptualising and creating this concept and space together.
Located in the heart of Sheung Wan along Mercer Street, Rêveri promises a welcoming fine-dining experience, offering a simple yet forward-thinking lunch and dinner tasting menus that combine Asian flavours with western cooking styles, owing to the diverse dining experiences of its founders, showcasing dishes that aim to cater to the cravings of all guests. Expect a range of premium-quality ingredients in elegant presentations, paired with a carefully curated selection of fine wines and Japanese sakes in a bespoke dining experience.
Rêveri's dinner tasting menu begins with the Truffle Brioche, a decadent starter showcasing premium Asian ingredients, including locally-sourced vegetables, in a French-inspired presentation. Bite into perfectly seared Japanese scallop with aged cheddar and a drizzle of fragrant scallop oil atop a fluffy truffle brioche bun—a dish that bursts with both flavour and texture.
The intricate, bite-size Carabinero Tart features an emulsion of the reputedly sweet and buttery red prawn, foie gras mousse and yuzu sake jelly in a light, crispy tart, embellished with beads of caviar. This stunning starter packs a savoury and briny punch from its use of premium Japanese and European ingredients, that leaves guests craving for more.
One of the most anticipated signature dishes on the menu is the Butter Poached Lobster which is drizzled with a fragrant Shaoxing wine sabayon, decorated with ribbons of homemade pickled daikon, and perched atop a rich and savoury lobster bisque. Fusing French, Chinese and Japanese flavours, this gourmet dish is a melting pot of the different food cultures that represent Hong Kong's cosmopolitan crowd.
Another signature, the Australian Wagyu Duo, exhibits the most prized cut of beef two ways—simply seared, and braised with red fermented bean curd, served with celeriac and potato gratin. Diners can opt to upgrade to Japanese Ōmi Wagyu beef at an additional cost.
Complementing the rich and satiating flavours of the Butter Poached Lobster and Australian Wagyu Duo, the Japanese Sea Bream Fish Rice is a satisfying presentation of premium seafood sourced from Japan's clear waters. Often served on celebratory occasions, the flavours of this firm yet mild fish are further enhanced over smoky charcoal, with a topping of briny ikura, spring onions and fresh uni. The combination of intricate flavours doesn't stop there, amalgamating with the umami of the supplementary Japanese Abalone Rice with Liver Sauce. Every element of this multi-layered dish juxtaposes one another in a complex harmony, concocting a succulent bite that tickles the palate.
Each plate is portioned individually, allowing guests to customise their dining experience while the front-of-house team's hospitality complements the intimate indoor space. Decorated with muted tones and neutrals, the atmosphere at Rêveri is designed to create a light and warm ambience that enables guests to escape the bustling city and enter a daydream-like state as they tuck into honest yet simple high-quality dishes that comfort the palate.
Indulge in a state-of-the-art tasting menu during Rêveri's soft opening, as Jessica and John guide you through a selection of signature dishes that draw inspiration from their shared journey. The 5-course lunch menu (HK$390) will be available from 12pm to 3pm, and the dinner menu (7-course HK$1,080, 11-course HK$1,580) will start at 6pm, allowing curious gourmands to experience Rêveri's unique approach to casual fine dining and exceptional hospitality.
Opening hours: Monday to Saturday | 12:00pm – 3:00pm, 6:00pm – 10:30pm
Address: 20-24 Mercer Street, Sheung Wan
Reservations: reservation@reverihk.com
Tel: ‎+852 6778 7278‎
Website: reverihk.com