20 Dec 2021 By AWAY IN STYLE
Where To Eat, What To Do And Places To Stay In Amazing Noosa
Summer is here! Discover the best tastes, ways to explore Noosa and places to stay in Noosa in our wrap up of summer inspiration in Noosa. Head to Noosa for all the inspiration you need to pack your bags and book your next Noosa holiday!
EAT + DRINK
ALBA by Kuruvita: Introducing the ultimate foodie destination, a brand-new venue by renowned local chef, Peter Kuruvita! ALBA features a café, providore, pizzeria, a relaxed all-day bar, which transforms into a stylish restaurant and cocktail bar as the day progresses. It will also host 'ALBA chefs' kitchen', a creative space for cooking classes and private chef's studios. This is something to be excited about! https://albanoosa.com.au/
Lucio's: Sydney's Italian institution Lucio's has opened an Aperitivo bar and river views at the Noosa Marina.  The restaurant is run by Lucio Galletto's two children, Michela and Matteo, and Matteo's wife Dieuwke Albertsma, who was a chef at Lucio's for 7 years. https://www.lucios.com.au
Sunset Bar at Sunshine Beach Surf Club: Treat yourself to a relaxing afternoon at the Sunshine Beach Surf Club's Sunset Bar this summer. Grab yourself a cocktail and enjoy the wide variety of delicious food available, there's even a kids chillax zone! The Sunset Bar will be set in the Ocean View room and will be open from 20 December through to 9 January from 4.30pm each day. https://surfclub.sunshinebeachslsc.com.au/whats-on/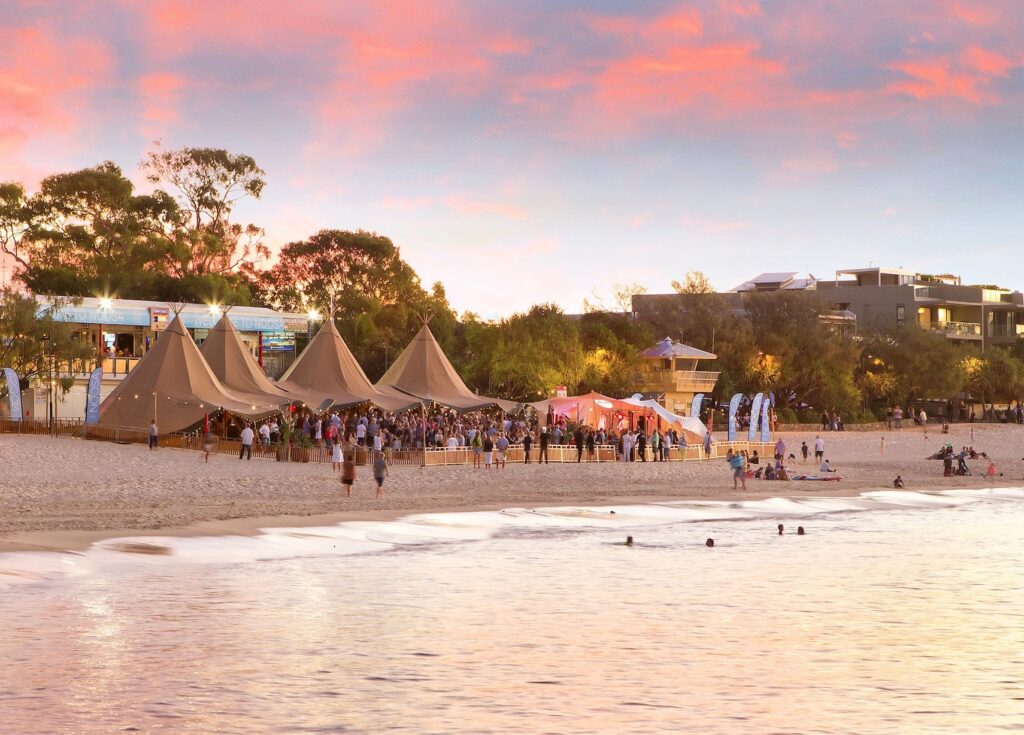 ADVENTURE, ARTS, ACTION AND MORE
Noosa After Dark Tour: Explore the beauty of the Noosa Hinterland region after dark! Discover the local flavours as you visit a winery, distillery and craft brewery. Don't worry about a thing, let the incredible team at 4U Transfers and Tours take care of everything for you. Enjoy a great evening out. https://4utransfersandtours.com.au/sunsh
Surf Lessons: Get amongst the waves and learn to surf in one of the world's most beautiful and best surf beaches! It would be silly not to take advantage of these surf waves. Learn to surf with Merrick Davis, a former pro surf champion! The surf school has an array of specifically structured lessons to suit absolute beginners through to competition surfers! https://www.learntosurf.com.au/
Stephanie's Luxury Spas: Unwind and relax this summer and treat yourself to a trip to Stephanie's Luxury Spa nestled in the beautiful Peppers Noosa Resort and Villas. From massage therapy to water treatments and couple sessions, you will definitely leave feeling refreshed, rejuvenated and ready to take on the year ahead! https://stephanies.com.au/
Throwback Thursday at Sunshine Beach Surf Club: Get out your best 80s costume and get ready to go back in time! On Thursday 30 December from 8pm at the Sunshine Beach Surf Club DJ Romeo will be kicking off for a night of fun! Let your hair down and enjoy the last few days of 2021! https://surfclub.sunshinebeachslsc.com.au/whats-on/
Catalina: Jump aboard the M.V Catalina and cruise the Noosa River for an afternoon of fun and chill vibes. There are events every Thursday to Sunday each with different styles of music and delicious cocktails! Enjoy the long summer evenings and quality time with friends! https://www.catalinanoosa.com.au/events
WHERE TO STAY
Glamping: Escape to nature this summer but do it in style! Located amongst 65 acres of beautiful national park is the Habitat Noosa Everglades EcoCamp. Relax in modern Paperbark Glamping tents as you enjoy an afternoon drink and watch the kangaroos play. https://habitatnoosa.com.au/glamping/
Bounce Noosa: Relax and unwind this summer on the sunlounges by the pool with a cocktail in hand! Located just one block back from the Noosa River foreshore, Bounce Noosa oozes beach club vibes. This is the perfect getaway for those looking for some coastal chill. https://www.staybounce.com/location/bounce-noosa
Noosa Beach Road Holiday Homes: Venture across the river to the beautiful Noosa North Shore and discover the native bushland, the unspoiled beaches and pristine waterways. Treat yourself to a holiday in stunning, architecturally designed and eco inspired homes. https://beachroadholidayhomes.com.au/
TOP 6 FREE THINGS TO DO
BBQ by the River: Grab your friends and family and head down to the Noosa River for an afternoon barbecue by the water. The Noosa River is dotted with communal picnic tables and barbecues from one end to the other, so there is plenty of space for everyone. Get out and enjoy some tasty food in a beautiful setting.
Watch the sunset from Mt Tinbeerwah: For the sunset chasers we suggest taking a short 15-minute drive from Noosa Heads to Mt Tinbeerwah in Noosa's beautiful countryside. Here you'll find a paved pathway that leads to 360 degree sweeping views from the hinterland around to the coast.
Hike the Noosa National Park: Enjoy stunning views and gorgeous beaches as you walk the iconic Noosa National Park. The walk stretches from Hastings Street all the way to Sunshine Beach with multiple different walking tracks to suit everyone. Make sure you keep an eye out for dolphins while you're on your walk!
Climb Mt Cooroora: Found in the hinterland village of Pomona is Mt Cooroora. Climb to the top and be rewarded with incredible 360-degree views of country vistas, coastal lakes and sand dunes.
Play with the puppies at the Noosa Dog Beach: Head to the Noosa Woods off the Spit end of Hastings Street and let your furry friends run free at the off-leash dog beach. Enjoy crystal clear water and a backdrop of beautiful mountains while your puppies enjoy some fun in the sun.
Cool off at Noosa Main Beach: Take a dip in arguably one of the most iconic and stunning beaches in the world. With 30 plus degree weather there is no better place to be this summer than the beach! Cool off and enjoy the beautiful outdoors in Noosa.