30 Jan 2022 By AWAY IN STYLE
WOW… SKYSTYLE REVEALS 71-METER CONCEPT YACHT EXCLUSIVELY WITH DENISON
Denison is excited to debut Project UNIQUE, a 71-meter custom yacht designed by SkyStyle. The project is exclusively available as a new construction opportunity with Denison.
SkyStyle is a design studio based in the U.S., Spain, and Argentina that is focused on advanced aviation conceptual design. Lead designers Lucas Colombo and Max Pardo have worked with aviation giants such as Boeing to test the boundaries of what is possible in an aircraft cabin. Today, Lucas and Max are using their aviation design skills to break into the yachting industry with their first yacht designs for Project UNIQUE 71.
"We were introduced to Alex at MYS 2021 by our SuperyachtOne friends. Denison showed great interest in the project and our intention to add new and fresh values to the yacht industry. We quickly understood that there was a great chance for a very interesting synergy, for UNIQUE 71's future," said Lucas Colombo.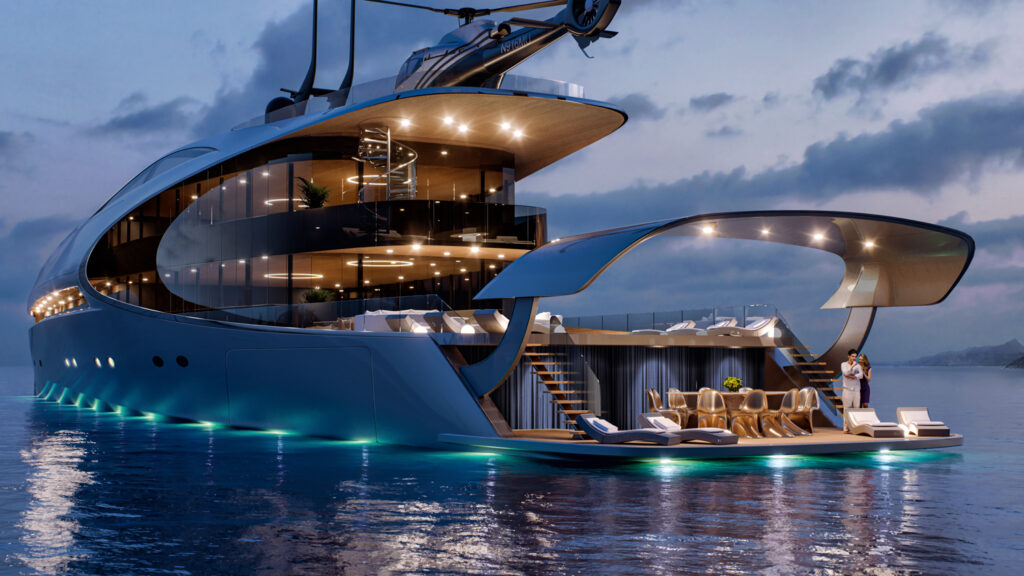 The 71-meter concept yacht called, Project UNIQUE 71, is intended for cruising oceans in style and speed. Her futuristic profile and a 13-meter beam embrace sporty characteristics, such as a sharp, pointed bow and three-dimensional surfaces. Other notable features onboard the yacht include a sky lounge sundeck, a jacuzzi, a touch-and-go helipad, and a plunge pool with an automatic cover.
Guests can move from one deck to another by elevator or the wraparound central staircase. Inside, generous space leads to fully equipped private suites for up to 12 guests, including four comfortable cabins, one VIP suite, and one Owner's master stateroom. The owner's deck is designed with an illuminated ceiling that can also be set to automatically open for an ocean breeze.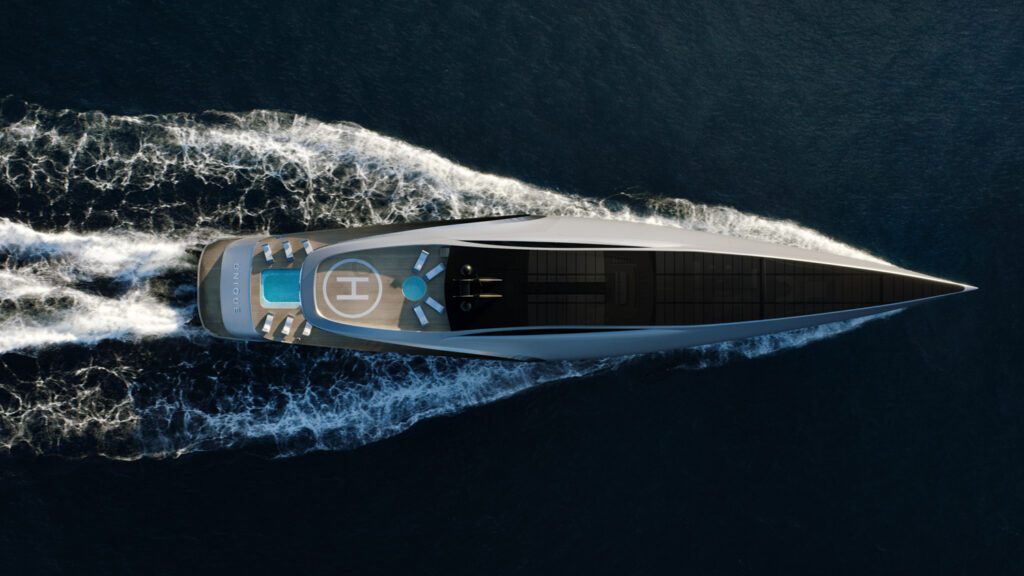 The yacht's interior is optimized to connect with the environment thanks to the generous transparent surfaces surrounding the social areas. The opacity of the glass panels that flank the yacht can be regulated to define the mood or increase privacy or transparency.
Project UNIQUE boasts plenty of entertainment and relaxation areas, including a gym, sauna, 12-seat theater, and billiard/bar room. The generous dimensions of the vessel allow configurations in different layouts that can be customized upon request.
"In today's world of yacht design, we are constantly pushing the boundary of what is possible both in form and function. UNIQUE 71 aims to satisfy the most challenging client. With Denison presenting this groundbreaking design, it allows a client to approach multiple shipyards to gather quotes to help develop and make this project a reality without being tied to a particular yard. The challenge is to find a shipyard that can understand this vision and the client's goals — both as an individual and in their business/ personal use of the yacht. We look forward to playing a small role in making this dream come true," commented Denison broker Alex G. Clarke.