18 Oct 2021 By AWAY IN STYLE
Yung Kee Reborn
Legendary Hong Kong Restaurant, Yung Kee, Unveils an Exciting Renovation to
Revive Forgotten Hong Kong Dining Culture
Among historic Hong Kong restaurants, Yung Kee has an incomparable legacy. Founded in 1936 as a humble streetside dai pai dong, this heritage brand grew into one of the city's premier Cantonese restaurants with a worldwide reputation to match, thanks in no small part to its famous roast goose. Over the decades, Yung Kee has dedicated itself to celebrating authentic flavours and traditions whilst preserving Cantonese cuisine and Hong Kong's local food culture, growing alongside the ever-changing city. As a result, it has established a loyal customer base spanning multiple generations.
Evolution is essential for any heritage brand to stay relevant, therefore Yung Kee is evolving to better meet its customers' needs. Now, the first Chinese restaurant to ever receive international acclaim has undergone a major renovation across two of the four floors at its iconic location in the heart of Central, Hong Kong. Yung Kee has also introduced a new menu available on its ground floor space inspired by the restaurant's early years, with traditional dishes reinterpreted with a modern touch. These stylistic and substantive changes will allow this historic eatery to continue delivering on its promise of authenticity and quality while also supporting its mission to promote Hong Kong's culinary history and culture to a new generation of diners.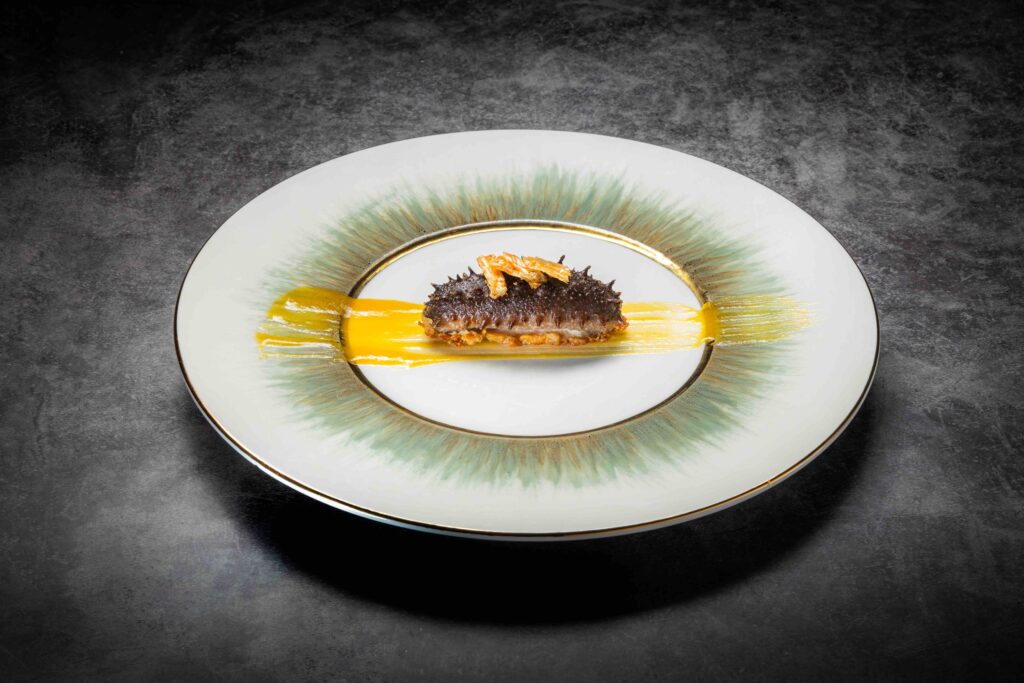 Reviving Culinary Culture
Yung Kee is more than a restaurant—it's a piece of living history. While the restaurant's storied past might not be known to all the customers, the recent renovations put Yung Kee's heritage, cultural and historical value front and centre of the design concept as a means of connecting the present to a bygone era and inspiring the next generation to continue to preserve Hong Kong's dining culture.
"When we started the project, we realised Yung Kee's history has always been connected with Hong Kong culinary development but a lot of that local food history is slowly disappearing – not only in terms of the traditions and the craftsmanship behind the dishes but also in terms of the way Cantonese dining was celebrated, where people would dress up to go out for a meal and to entertain. Through the renovations, we wanted to firstly remind our loyal customers of their precious memories at Yung Kee, as well as reignite the excitement for Cantonese dining culture at Yung Kee, and bring the restaurant's historical treasures to the forefront" said William Lim, Managing Director of architectural firm CL3.
A Cultural and Historical Culinary Journey Through Yung Kee
Upon entering the restaurant, diners are immediately transported back to Yung Kee's humble beginnings as a dai pai dong. The design team has brought back Yung Kee's original booth seating, restoring scenes from half a century ago but updating the booths with comfortable sofa cushions and heightened panels to offer a feeling of privacy. The familiar, historical sights of the reception counter, aquarium, statue of Wang Xizhi geese-watching have all been preserved with care and retained on the ground floor as well. "My grandfather started Yung Kee as a dai pai dong and had always urged us to never forget our roots. We've always believed that everyone is entitled to good food so in 1964 we were the first to introduce lunch boxes serving meals of rice topped with roast goose and other barbecued meats to white and blue collar workers in Central. Everyone sat at communal tables and people can still enjoy that to this day," said Yvonne Kam, third generation co-owner and chief financial officer of Yung Kee. Aside from retaining the barbecue stall, takeaway area and the communal banquet table, the menu has since expanded to feature other quick and easy dishes like wonton noodles, congee and other light bites that can also be ordered for takeaway.
The first floor has been completely renovated to bring people back to a time when they could relax all day over tea and dim sum in a teahouse. Taking inspiration from iconic films shot in Hong Kong such as "In the Mood for Love", "Love is a Many Splendored Thing" and "The World of Suzie Wong"- Yung Kee has taken away the tablecloths, much of the carpet has been removed to highlight the carefully restored and preserved original floor tiles which have been a part of Yung Kee for decades, and were originally sourced and handcrafted by Italian artisans. William and the design team set out to honour and preserve these tiles to the greatest extent, gently removing the original tiles piece by piece to be sent for restoration by new artisans. The original design plans were even changed to accomodate for a space that can truly feature these stunning tiles with a story to tell in every piece. The pre-renovation dominant colour of red has been swapped out for pleasing shades of pink and green from the peonies that evoke the feeling of sitting in a peony garden, making the first floor an ideal location for a relaxing afternoon tea or casual group dining with family and friends in the heart of bustling Central.
To revive the concept of "Grand Dining", when dining out was a celebration and people would dress up just for a Cantonese meal, the second floor has been given a facelift to reinvigorate Imperial dining experiences. At the heart of the grand dining hall is Yung Kee's signature "Dragon and Phoenix Stage" which has been the highlight of many weddings and important celebrations over the years. The Dragon and Phoenix Stage is one of the last remaining stages of its kind in Hong Kong, and has always been the most well-maintained but has now been rejuvenated to better cater to special event celebrations in the future. Moreover, the second floor also serves as a showcase for preserved artefacts that are woven in Yung Kee's fabric. The beloved 18 Lo Han porcelain figures, marble plaque with "Yung Kee is the number one in the world" written and inscribed by famed calligrapher Lin Yutang, and the meticulously restored majestic wood carvings of nature and garden scenes that have been a part of Yung Kee for over 40 years are all featured on the second floor to allow guests to savour authentic Cantonese cuisine while appreciating these historical works of art.
Preserving Cantonese Culinary Traditions
Yung Kee's menu continues to maintain the heritage of authentic Cantonese cuisine and traditional techniques almost lost to time. Standouts on the menu are Yung Kee's beloved signature dishes throughout the years, some of which are hard to find nowadays, as well as contemporary interpretations of traditional Cantonese dishes, allowing guests to relive the good old days.
Having served as the foundation of Yung Kee's legacy, the Signature Charcoal Roasted Goose is prepared with high quality purebred Black Mane Chinese goose. The Black Mane Chinese Goose requires 120 days to be "ready for market", specially selected by Yung Kee for its succulent meat. The goose uses a traditional wet heat roasting method to ensure that the secret recipe marinade that's been passed down for generations is locked in with the meat juices as it roasts over fiery charcoal in the traditional Chinese style grill, maintaining its famous succulent flavour and texture. Yung Kee has also retained the original Chinese charcoal grills at greater cost than the overall renovations despite substantial modern kitchen upgrades, as the government no longer issues new licenses for Chinese charcoal grills, and gas or electric options wouldn't be able to produce the iconic Roast Goose guests know and love.
Charcoal Roasted Goose Webs Stuffed with Barbecued Pork, Goose Liver Sausage is a nostalgic and meticulous dish that originally rose to fame in the 1950s, originally made with duck and stemming from a desire to not waste daily leftover duck parts. To minimise wastage of these ingredients, restaurants would stuff duck palms with pig's offal and wrap it up with duck intestines before roasting with a honey glaze to mimic char siu. Yung Kee's version elevates the dish using goose webs instead of duck, diligently de-boned to wrap a bounty of succulent barbecued pork, goose breast and signature goose liver and goose liver sausages before being tightened with fresh goose intestine and hang-roasted over charcoal to produce a fragrant, rich but not greasy, technically challenging dish.
Goose is further highlighted on the Yung Kee menu with Charcoal Roasted Goose in "Pipa Style", a dish that's hard to come by even in the most traditional Chinese restaurants. The whole goose is meticulously deboned and laid flat to resemble a pipa instrument, then marinated in a secret red fermented beancurd based sauce. The goose is air-dried for 4-6 hours then roasted twice over 40 minutes: the first time with low heat to achieve the right colour and texture, then the second roast under high heat to retain moisture of the meat while ensuring a perfectly crisp outer skin, showcasing Yung Kee's technical excellence in producing a balanced dish.
Similarly labour-intensive is the award-winning Smoked Premium Pork Belly with Pine Nut where fatty pork belly is first boiled for two and a half hours with anise, black cardamom, and bay leaves, then frozen after cooling to set. Each piece of pork belly is then cut into equal portions and steamed with master stock, then smoked with rice, cane sugar, chrysanthemum flowers and tea leaves and finally served with pine nuts for complex, smokey layers of flavour that cut through the grease.
Roasted Pigeon Legs and Stir-fried Pigeon Fillet features a pigeon cooked two ways to present a combination of two traditional Cantonese dishes: braised pigeon legs and stir-fried pigeon fillet, cooked separately using different cooking methods to ensure the best flavours and textures. The plump, juicy pigeon legs are skillfully separated from the whole pigeon, a time-honored technique that Yung Kee's chefs have perfected, marinated and air-dried before frying in order to lock in its juices and keep the skin crispy and tender. Always marinated and cooked to order, stir-fried pigeon fillet was a popular delicacy but is now uncommon on Cantonese menus due to its test of the chef's knife skills and understanding of heat control. The chef first fillets the pigeon breast, then each fillet is expertly sliced to equal thickness before being marinated and stir-fried in attentively-controlled temperatures for maximum tenderness, and finally served alongside the braised pigeon legs for a flavourful experience of the humble pigeon.
Yung Kee has also revamped traditional recipes to better suit modern palates. For example, the Sea Cucumber Stuffed with Diced Garoupa, Salted Fish and Minced Pork incorporates two traditional dishes into one, with a new, modern presentation. Family-style preserved fish steamed meatloaf and nostalgic Cantonese dish "The love between death [salt-preserved fish] and life [fresh steamed fish]" (生死戀) have been combined through stuffing a whole fresh Hokkaido sea cucumber with two layers: the first being fresh minced fish and the other a rich filling of preserved fish and minced pork. The stuffed sea cucumber is then braised to create a multi-textural dish full of oceanic flavours.
Meanwhile, the Crispy Toast with Mixed Shrimps and Lobster Tail is an elevated tribute to Prawn Toast, a classic Cantonese dish. A whole lobster tail along with fresh minced shrimp is added atop a slice of bread with fresh Chinese yam paste to balance the grease, then it is fried to perfection. As a finishing touch, the toast is topped with Sakura shrimps. The combination of lobster, prawn and sakura shrimps are a call back to the different generations of diners joining together for a family meal at Yung Kee.
Yung Kee's Enduring Legacy
Today, Yung Kee continues to build on its incredible, one-of-a-kind legacy. With its new interiors paying homage to the traditions and craftsmanship behind the upgraded menu while also celebrating Cantonese dining in all its forms, whether it be a casual morning at the teahouse, a grand family dinner or a wedding banquet, Yung Kee is not just a restaurant, but a place that embodies Hong  Kong's history and culture. Yung Kee continues to bridge traditions and authentic flavours of the past with the present for everyone to enjoy, in Hong Kong's premier Cantonese restaurant, a place where diners of all ages can enjoy high-quality Cantonese cooking in a setting that feels both classic and contemporary at once.
Yung Kee is located at 32-40 Wellington Street, Central, Hong Kong. Tel: +852 2522 1624