24 Oct 2023 By AWAY IN STYLE
穿越山海,馳騁都市:探索精神邂逅奇妙靈感,銳意突破共創邊界
FROM THE MOUNTAIN TO THE CITY: EXPLORATION MEETS INSPIRATION IN A CAMPAIGN THAT PUSHES THE BOUNDARIES OF CO-CREATION
Designed for exploration, Moncler and adidas Originals' new collection pushes the boundaries of co-creation as the two iconic brands find inspiration in the journey from mountainous peaks to the city below. Moncler's mountain birthplace meets the metropolitan base of adidas Originals as a selection of forward-thinking designs advance the notion that function creates unlimited potential for discovery. On both sides of the collaboration, function has form: adidas Originals has been changing the shape of city sportswear since 2001, and Moncler has continuously redefined innovation for exploring the great outdoors since its first mountain expedition in 1952.
Moncler x adidas Originals全新聯名系列專為探索而生,兩大經典品牌於山巔至都市的冒險旅程中汲取靈感,銳意突破共創邊界。盟可睞Moncler的山地血統邂逅adidas Originals的都市底蘊,碰撞出一系列前瞻性設計,升格詮釋功能創造無限探索潛能的先鋒理念。功能與形式並重是兩大品牌一以貫之的追求:2001年起,adidas Originals一直致力於探索都市運動服飾的不同形態;盟可睞Moncler則自1952年首次助力登山探索以來,不斷革新演繹戶外探索著裝。
The campaign, titled The Art of Explorers, turns its attention to explorers themselves. With human endeavor a core ideal of both brands, the explorer steps into the spotlight as a shared figurehead, represented first through a series of AI-generated adventurers, then through a collection of unique mixed-media sculptures. Offering nods to both brands, the campaign tagline Where Originality Meets Extraordinary speaks to Moncler's positioning as a longstanding performance and utility innovator and adidas Originals' enduring legacy as a champion of culture and creativity, spreading influence from an epicenter peak, to cities around the world.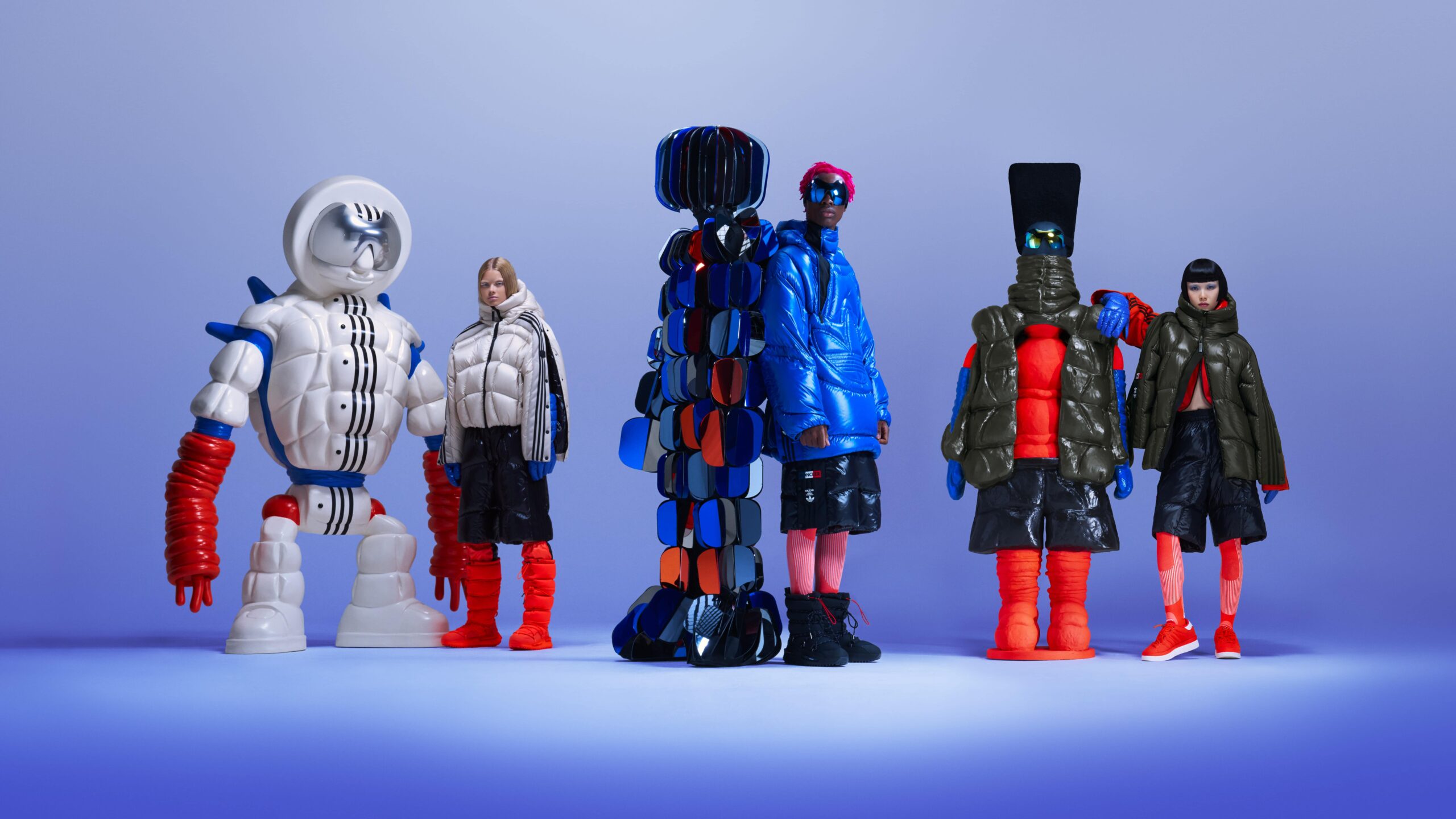 此次聯名廣告片名為「探索者的藝術」(The Art of Explorers),將焦點轉向探索者本身。探索者作為兩大品牌共同的精神化身,先以一組AI生成的形像出現,接著透過一系列獨具特色的混合媒體雕塑呈現,呼應雙方頌贊人類堅韌意志的核心願景。廣告片以「經典碰撞,遇見非凡」(Where Originality Meets Extraordinary)為口號,同時致敬兩大品牌,彰顯盟可睞Moncler長期以來對性能與功能創新的不懈追求,以及adidas Originals致力弘揚文化與創造力的悠久傳統,力求將影響力從巍峨山巔擴散至世界各地的都市。
Building on The Art of Genius show that first unveiled the collaboration at London Fashion Week in February, artists from diverse fields – from sculpture to costume, set design to make-up – were challenged to create human-esque explorers inspired by looks from the collection. Sculptures by Gary Card, Ibby Njoya, and Kate Tabor, alongside real-life explorers in looks styled by Ai Kamoshita, with make-up and accessories by Isamaya Ffrench, were brought to life by photographer Hanna Moon.
2023年2月倫敦時裝週期間,盟可睞Moncler在The Art of Genius天才創藝大秀中首次公佈此次共創計劃,並邀請來自雕塑、戲劇服裝、佈景設計以及化妝等各個領域的藝術家,以系列造型為靈感創作人形探索者形象。Gary Card、Ibby NjoyaKate Tabor精心創作的雕塑,以及造型師Ai Kamoshita和化妝師Isamaya Ffrench共同妝造的真人探索者形象,在攝影師Hanna Moon的鏡頭下煥發蓬勃生命力。
The groundbreaking creative exploration extends beyond a physical experience to a digital one with the introduction of a new immersive platform on moncler.com. Drawing inspiration from the collection's summit-to-city design themes, this unique destination unlocks exclusive products and presents collection details through a digital gallery recalling the vibrant metropolitan streetscape that played host to The Art of Genius show earlier this year. This digital experience combines sound, video and 3D animation, immersing visitors in a city street where exclusive products and 3D artworks are gradually revealed, and users can purchase the collection via digital billboards. A limited-edition artistic exploration of the Moncler x adidas Originals NMD boot that evolves the silhouette for the digital context has been brought to life as an NFT that can be accessed through the platform and the adidas Confirmed app.
Moncler.com亦傾情推出全新沉浸式體驗平台,將這場開創性的創意探索從現實世界延伸至數位空間。這款獨樹一格的數位平台以本系列「從山巔至都市」的設計主題為靈感,透過數位畫廊悉數呈現獨家作品與系列設計細節,令人回想起此前The Art of Genius天才創藝大秀中活力四射的都市街景。此數位體驗將結合音訊、視訊和3D動畫,讓訪客彷彿置身於都會街道,逐步探索一一顯現的獨家產品及3D藝術品,還可透過數位廣告看板選購系列作品。 Moncler x adidas Originals NMD靴推出限量版NFT,鞋履輪廓針對數位場景進行調整,體現出對產品的藝術性探索。該作品可在上述平台和adidas Confirmed應用程式中查看。