15 Jun 2023 By AWAY IN STYLE
aqua restaurant Celebrate Your Hero this Father's Day
Spoil your dad this Father's Day at Aqua Restaurant Group – from Japanese, Chinese to Italian, we have everything you need to surprise and delight your dad to make him feel like a king.

Celebrate Your Superhero with Steak and Cocktails at Cantina
Swing by Cantina in Central for classic Italian dishes to surprise and delight your dad in Tai Kwun. Enjoy a la carte favourites with a complimentary 250g beef flank steak for every dad when you book brunch or dinner on the 17th or 18th June. For Non-Stop Brunch, feast on bottomless cicchetti (small Italian bites), pasta and dessert with free-flow beer and grab the family for balloon magic fun on Sunday 18th June. Cantina will keep the kids entertained whilst dad enjoys a well-deserved complimentary cocktail from The Dispensary bar.
Cantina, Police Headquarters Block 01, Tai Kwun,
10 Hollywood Road, Central, Hong Kong
T 2848 3000 | www.cantina.com.hk | FB & IG @cantinahongkong
Light Up Your Dad's Day with Steak and Dessert at aqua
Show dad you care with an impressive steak cooked to perfection served alongside Hong Kong's magnificent skyline at aqua in Tsim Sha Tsui. Pre-order a gigantic, premium Italian Marango 1kg tomahawk steak served Italian-style with double cooked truffle potatoes – available at both brunch and dinner. There is also an exquisite seven-dish Father's Day Tasting Menu priced at HK$988 per person which includes new Kinmedai sashimi with negi ikura to start with Guinea fowl ravioli with baby oyster mushrooms. Plus, every dad will enjoy a Complimentary chocolate and gianduja mousse cigar when you book brunch or dinner on the 17th to 18th June. Enjoy a leisurely Non-Stop Brunch with unlimited Japanese sushi, sashimi, oysters, Italian signatures, free-flow and so much more at the longest brunch in town – and enjoy new summer sips on aqua's stunning panoramic rooftop till late.
aqua, 17F, H Zentre, 15 Middle Road, Tsim Sha Tsui, Hong Kong
T 3427 2288 | www.aqua.com.hk | FB & IG @aquahongkong @aquahk
Make Your Dad's Day at Dim Sum Library
Enjoy a relaxing family feast at Dim Sum Library in Pacific Place with a glorious eight-dish Chinese dinner featuring dim sum favourites and hot dishes including Fresh 6-head Dalian abalone in superior pickle sauce and Boiled chicken and fish maw in chicken bisque. Father's Day Dinner is available on the 17th to 18th June, priced at HK$988 for two or HK$1,888 for four people.
Dim Sum Library, Shop 124, Level 1 Pacific Place, Admiralty, Hong Kong |
T 3643 0088 | www.dimsumlibrary.com.hk | FB and IG @dimsumlibrary
Surprise Your Dad with Sushi & Sake at Shiro
Treat your dad to modern Japanese at Shiro in Pacific Place this Father's Day and choose from the variety of Deluxe and premium sushi dons and Dinner bentos starting from only HK$308. Don't miss the limited-edition Seared wagyu beef with prawn tempura roll (HK$228) and Thinly sliced wagyu beef sukiyaki with tofu, vegetables and onsen egg (HK$248) which are exclusively available on Saturday 17th and Sunday 18th June to whisk your dad to Japan.
Shiro, 132/Level 1, Pacific Place, Admiralty, Hong Kong | T 2117 9481
www.shiro-sushi.com| FB and IG @shirohongkong
King Crab & Cocktails for Your Father at The Chinese Library
Impress your dad with an incredible dinner or brunch at The Chinese Library this Father's Day in the historic grounds of Tai Kwun. Chef Junno Li introduces a fabulous Steamed Alaskan king crab in Chinese yellow wine (market price) – available for pre-order which is served alongside iconic dishes such as the Braised sea cucumber. Wrap up the night with a special Father's Day Sweet dumpling in whiskey soup (HK$118). During the day, fulfill your dads dim sum dreams with limitless appetisers, yum cha and desserts at Early Brunch from 11am – 1pm or Non-Stop Brunch from 1.30pm – 4.30pm with a complimentary cocktail for every dad from the 17th to 18th June.
The Chinese Library, Police Headquarters Block 01, Tai Kwun,
10 Hollywood Road, Central, Hong Kong
T 2848 3088 | www.chineselibrary.com.hk | FB & IG @thechineselibrary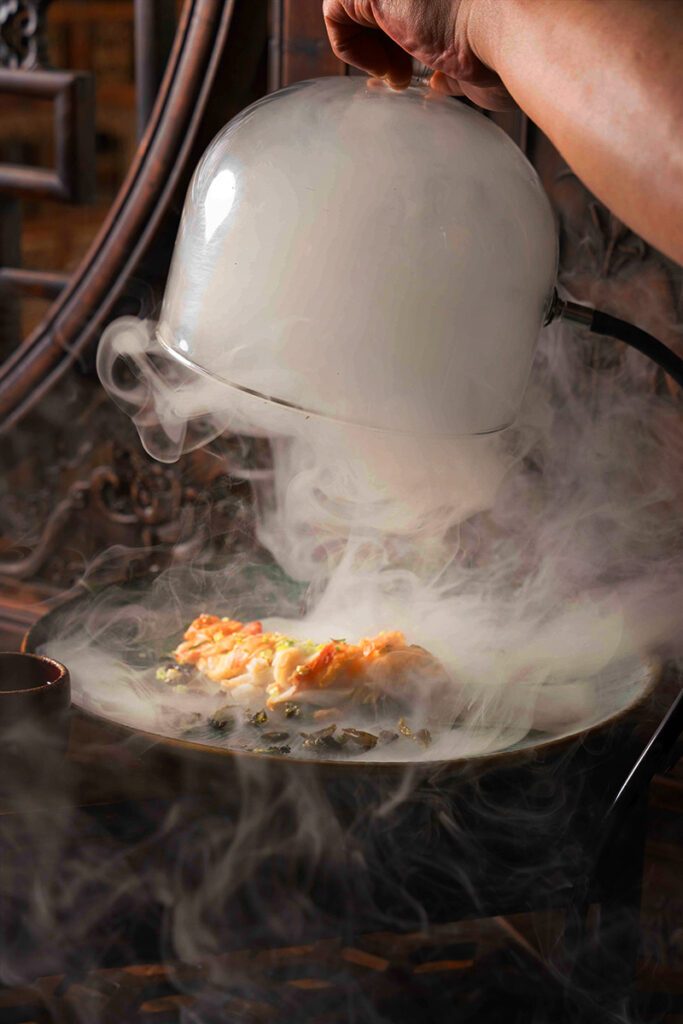 Bring the Family Together to Honor Dad at Hutong
Celebrate Father's Day as a family with Hutong's 10-dish Father's Day Dinner served alongside sweeping views of Hong Kong's Victoria Harbour. Start with Black truffle scented abalone followed by a smoky Sliced smoked lobster in Sichuan chilli sauce and Stir-fried prawns with longjing tea. Father's Day Dinner is priced at $1,280 per person, with limited-edition dishes exclusively served on 17th to 18th June. During the day, bring the little ones to Hutong's iconic Feng Wei Brunch to enjoy unlimited dim sum and traditional Chinese entertainment acts from 11.00am to 1pm or from 1pm to 4.30pm. Brunch starts from HK$580 per person and free-flow packages start from only HK$200 per person. Don't forget, kids under 12 brunch for free!
Hutong, 18F, H Zentre, 15 Middle Road, Tsim Sha Tsui, Hong Kong
T 3428 8342 | www.hutong.com.hk | FB & IG @hutonghk
Stunning Views and Steak for Dad at Vista Overlooking Victoria Harbour
Bring dad to experience 'The Real Italian Deal' at Vista, on the top floor of One Peking in Tsim Sha Tsui. Celebrate Father's Day with an incredible selection of Italian favourites surrounded by stunning panoramic views of Hong Kong's skyline. Treat your dad to unlimited buffet starters, glorious pasta and meat carving live stations, main course and Italian desserts. Specially on Saturday 17th June – every dad will enjoy a Complimentary 250g beef flank steak when you book either brunch or dinner in advance. After dinner, make sure you pop-upstairs on the 30/F for Vista Bar's Negroni's.
Vista, 29F / 30F One Peking Road, Tsim Sha Tsui, Hong Kong
T 2778 3255 | www.vista.com.hk | FB & IG @ vistahongkong
Spend Quality Time with Your Dad at Sea on aqualuna
Take your dad out on the water this Father's Day on the iconic aqualuna. On the 17th and 18th of June, dads will enjoy a complimentary extra beer while sailing across Victoria Harbour. Hop on the Dim Sum Cruise or Afternoon Tea Cruise for exquisite favourites from Dim Sum Library and desserts from aqua priced at HK$399 for adults and HK$299 for children. You can also take in the beaming skyline of Hong Kong on the Evening Harbour Cruise or Symphony of Lights Cruise starting from HK$270 for adults and HK$170 for children.
aqualuna | Pick-up & drop-off: Tsim Sha Tsui Public Pier 1 or Central Pier 9
T 2116 8821| www.aqualuna.com.hk